CYMA Tournament : Kerala Varma Men and Kerala Police Women wins the cup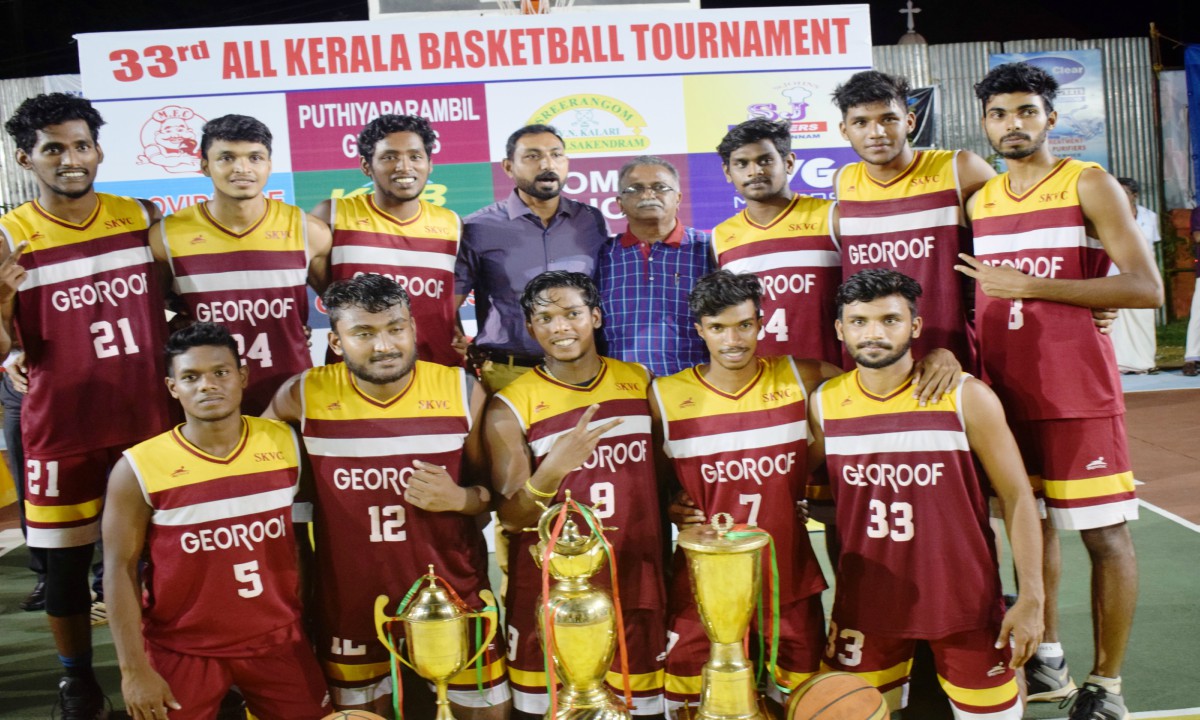 Nedukunnam, Feb 18th - Sree Kerala Varma College, Thrissur stunned Kerala Police men's team while Kerala Police women took the women's title by beating Assumption College, Changanserry by 70-54 here at the finals of the 33rd CYMA All Kerala Basketball Tournament here at St Johns HSS, Nedukkunnam .
In the Men's final Sree Kerala Varma registered a historic win by beating the seasoned Kerala police team by a score line of 75-41. Earlier in the semi's Kerala Varma defeated another professional team-KSEB, Trivandrum.
Kerala Police men found it difficult to cope with the fast paced and energetic college squad of Kerala Varma. Grigo Mathew did the early damage for the college team with his fast breaks and consistent scoring in the first half. Later, Shuras Muhammed completed the task for Kerala Varma by scoring at regular intervals in the second half starting with a couple of three pointers. Shuras top scored with 25 points while Grigo registered 18 points . Sreejith Nair top scored for Kerala Police with 18 points.
In the women finals, an experienced Kerala Police team which had two senior internationals- Neenu Mol and Pooja Mo,l had the confidence and squad depth to break the spirit of Assumprion College girls. Though the police team trailed in the half time 33-34, they accelerated the scoring in the second and third quarters to register a comfortable 70-54 victory against Assumption college . Surya PS with her fast counter attacks top scored for Police with 19 points followed by tall and lanky Rhea- who scored 17 points Neenumol and Poojamol contributed 14 and 13 points respectively. Athira was the leading scorer for Assumption College with14 points.
Detailed Scores
Finals
Men
Sree Kerala Varma College Thrissur-74(Shuras Muhanmed 25,Grigo Mathew18) bt Kerala Police-41(Sreejith N Nair18,Jijo Thankachan14)
Women
Kerala Police- 70(Surya PR18,Rhea 17,Neenumol PS 14,Poojamol 13) bt Assumption College Changacherry-54(Athira M S 14, Anumaria 13, Jayalakshmi 10)