18th Champions Trophy: Line-ups ready for the finals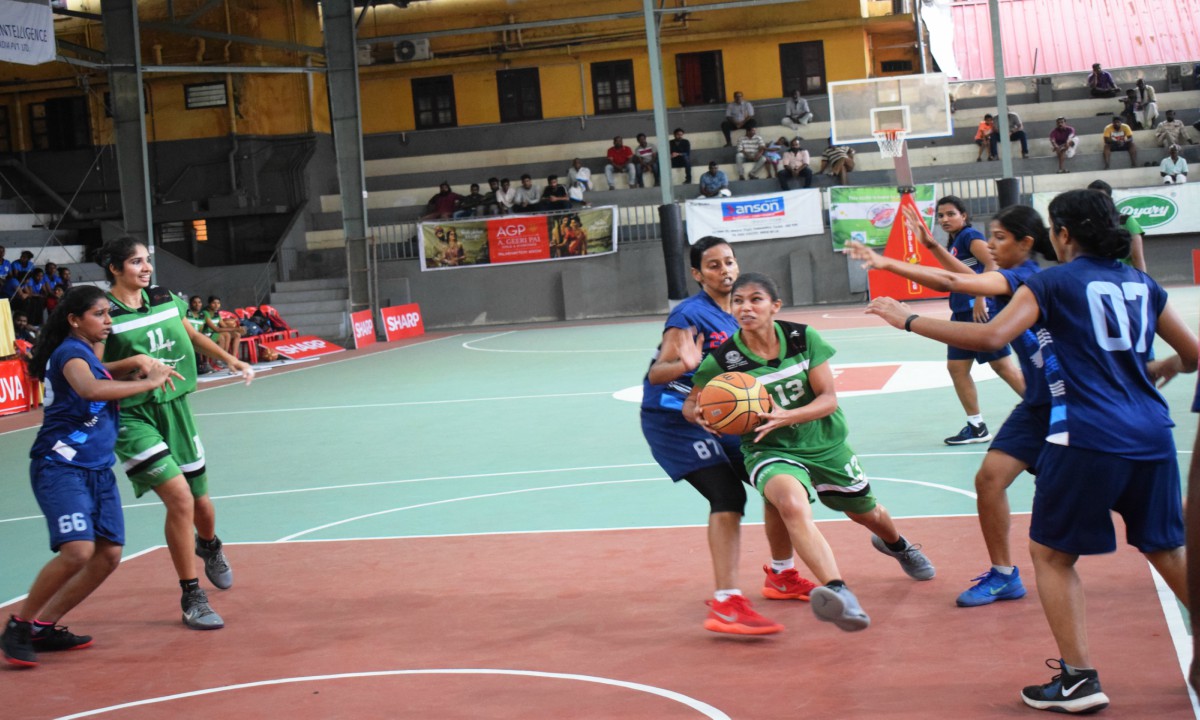 Aluva, February 24 –Kerala State Electricity Board (KSEB), Trivandrum will face Kerala Police in the women's section finals while Sree Kerala Varma College, Thrissur sets up a final clash with defending champions Customs and Central Excise for the 18th Champions Trophy Inter club Basketball Championship for Men and Women, here at Carmel Club Indoor Stadium.
In the first semi finals under Women's section, Kerala Police beat the Calicut university Champions St Joseph's College, Irinjalakuda 56-33 with Surya PR leading the scoring for Kerala Police with 28 points
In the second semi finals star studded KSEB, Trivandrum after an evenly fought first half came back strongly in the second half beating Assumption college 43-27 with Aneesha Cleetus top scoring for the winning team with 11 points.
The most exciting match of the championship was definitely the last match of the day the second Semi final between Sree Kerala Varma College Thrissur and KSEB .
KSEB came on to the court determined to avenge their defeat against Kerala Varma four days back and started off the first quarter leading 16-9, but the college team held their nerves and came back reducing the lead, ending up the first half trailing only by 2 points (24-26) and ended up the third quarter trailing 33-36 . The mid way through the final quarter saw KSEB increasing its lead to a 10 points but KSEB couldn't cope with the energy and pace of the young college players as the state government team were forced to make fouls resulting in the loss of three of their key players: Jishnu ,Ashin and Sharath.
The dying minutes of the match saw Shiras and Grigo accelerating the tempo and ensured Kerala Varma prevailed over a professional KSEB team. Grigo was the leading scorer with 16 points for the college team from Thrissur while Shanzil (12) and Shiras (10) also made vital contributions for the winning team. For KSEB, Sharath and Akhil scored 15 points each.
In men's quarter final match on Friday, KSEB eased passed Beatrice Club, Kannur by a score line of 46-32.
The finals will be played on Sunday, February 24th.
Detailed scores
Women
Semi finals
Kerala Police-56(Surya PR -26,Riya Jinendran -10) bt St Josephs College Irinjalakuda-33 (Aswathy P Jayasankar -15)
KSEB Thiruvanthapuram-43 (Aneesha Cleetus-11, Nimmy -8, Anjana P G -8)
Men
Sree Kerala Varma College, Thrissur-56(Grigo Mathew-16,Shanzil Muhammed-12,Shiras Muhammed-10) bt KSEB Thiruvanthapauaram-53 (Akhil AR-15,Sharth-15)
Quarter finals
Men
• KSEB Thiruvanthapuram-46(Anjith A R-14,Sharath-8) bt Beatrice Club, Kannur-32(Aravind13)