36th State Youth Basketball Championship: Double Delight for Thiruvananthapuram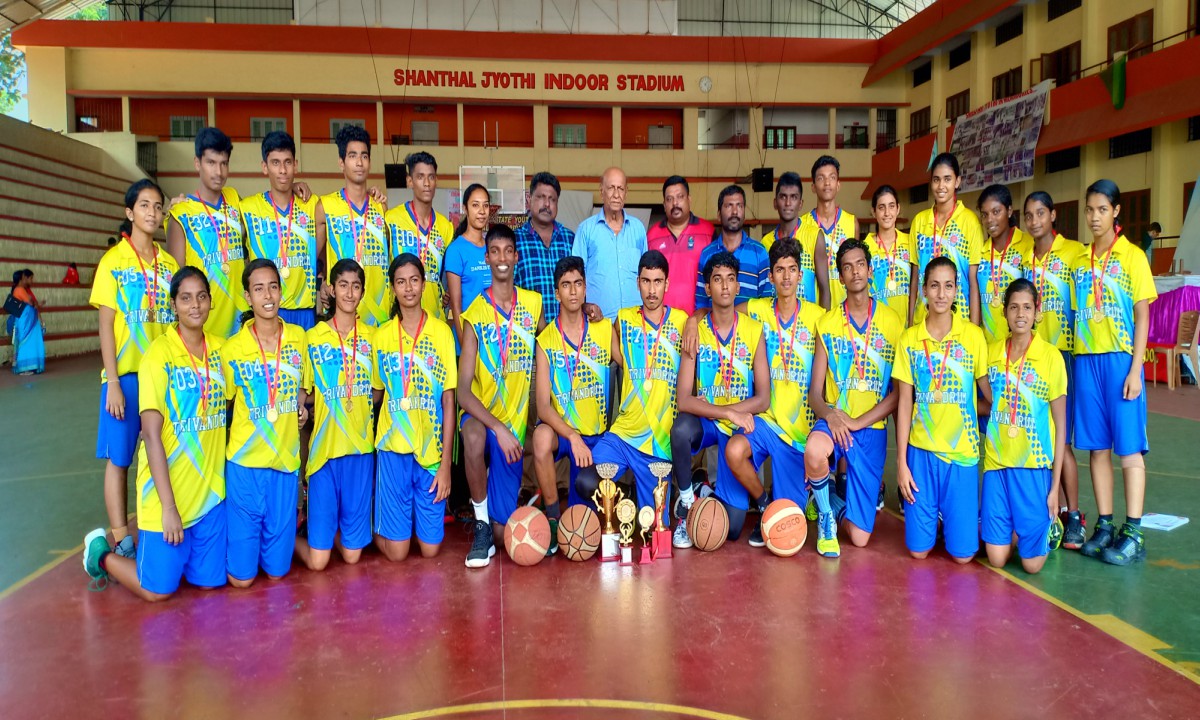 Thodupuzha 27th April :Both Trivandrum girls and boys team were crowned champions at this year's State Youth Basketball Championship.
Anchored by NBA academy product Pranav Prince, Thiruvananthapuram district boys team had no difficulty in beating Kottayam by a score line of 45-28 while in girls category, defending champions Trivandrum once gain had the last laugh after a thrilling encounter against Kottayam which ended with a score line 59-56 in the capital district's favour.
In the boys final, Pranav did the bulk of the scoring for his side as he registered 28 points to his name out of the 45 points.
In girls section, Thurvanthapuram team even with a good bench strength had to scrape past Kottayam- who had international player Ann Mary Zacharia in their side.
For bronze medal for girls, Kozhikode beat Thrissur by 52-48 while Ernakulum took the Boys bronze as they beat Thrissur by 41-38
Earlier in semi finals Kottayam beat Eranakulum by 44-39 and Thriuvanthapuram beat Thrissur by 60-38
In girls semi final, Thiruvanthapuram beat Kozhikode 48-29 and Kottayam defeated Thissur 68-47 to make it into the finals.
.
Detailed Scores
Third position
Fnals
Girls
• Thiruvanthaouram-56 (Chinnu Koshy 15,Abhirami 15, Amrutha P 13) bt Kottayam-56(Ann Mary Zacharia 21 , Aksha Thankam 13,Swana Marin 10)
Boys
• Thiruvanthaouram-45(Pranav Prince28) bt Kottayam-28(Jim Paul10)
Third Position
Girls
• Kozhikode-52 (Payisha K 20,Avani 14,) bt Thrissur -48(Aleena Antony 14,Christeena Sabu14)
Boys
• Ernakulum-41(Anwin Saju 11, Aswin11) bt Thrissur -38 (Abhnav CR12)
Semi Finals
Boys
• Kottayam-44(Deepak S15, Jim Paul 9,Ajin 8) bt Eranakulum-39(Anwin Saju 14)
• Thiruvanthapuram-60 (Pranav Prince23,) bt Thrissur-36(Rajeeb 8)
Girls
• Kottayam-68 (Ann Mary Zacharia 29, Aisawra 12,Swapna Cherian 8) bt Thrissur-47(Criteena Sabu 12,Aleena Jaison12, Aleena Antony10)
• Thiruanthapuram- 48 bt Kozhikode -29
Quarter Finals
Girls
• Thrissur- 46 (Aleena Antony12) bt Wayanad -13
• Thiruvanthapuram-32 (Chinnu Koshy11) bt Alapuzha-7
• Kozhikode -52(Patisha17,Aneya 9) bt Ernakulum-30
• Kottayam-57(Ann Mary Zacharia 25,Swapan Marium16) bt Kannur-55 (Sreelakshmi20,Jesly PS16)
Boys
• Thrissur-52(Sonal VS 14) bt Alapuzha -28 (Arjun8)
• Kottayam -58 ( Deepak S Vettikat18,Joseh C14,)bt Pathanamthitta-29 (Govind Manoj8)
• Thiruvanthapuram – 69( Pranav Prince26,Alotius12) bt Kozhikode-62(Nithin Babu22)
• Ernakulum- 54( Anathu KS 12 ,Anwin Saju11) bt Idukki-47(Farzeem15,Joel Voince11)