46th State Sub Junior Championship: Ernakulam crowned champions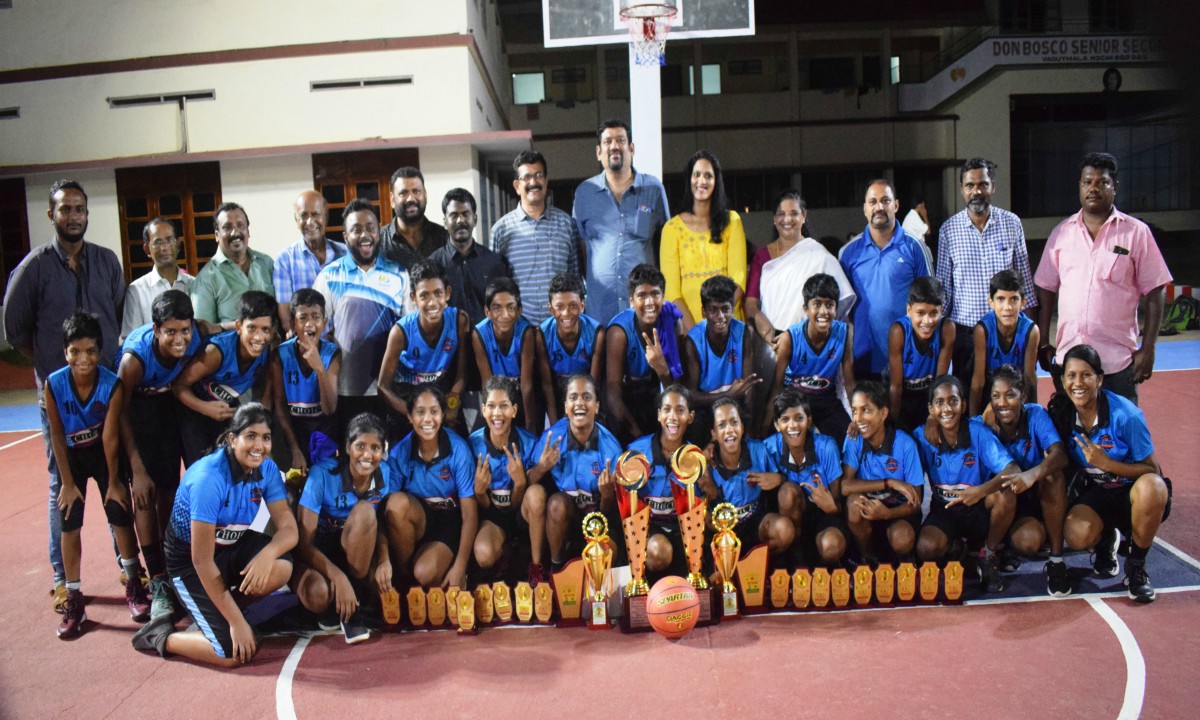 Kochi,2nd May: Both Ernakulum Boys and Girls were crowned champions of the 46th Sub Junior State Basketball Championship held at Vaduthala , Kochi, at Don Bosco Flood Lit Basketball Stadium.
In the evenly contested girls final, Thrissur took the lead 11-10 at theend of first quarter , but the second quarter saw Ernakulum taking the command and lead 21-40 at the half time before winning the Match at 46-37 eventually. Amanda Maria and Maria Louis scored 13 and 10 respectively for Ernakulam.
The boys final was an one sided affair as Ernakulam beat Kozhikode 34-14 with Johan Jenson who was also adjudged as the best player top scored for Ernakulum with 10 Points .
Earlier, Alapuzha boys defeated Kottayam by 29-27 while Thiruvanthapuram girls beat Kannur 30-16 to claim the Bronze medal .
Earlier on in the Semi final matches Ernakulum made an double entry into the final as their boys team defeated Alapuzha 35-9 and girls beat Thiruvanthapuram 37-16 to set up a final Clash against Kozhikode- who beat Kottayam 33-25, and in girls to meet Thrissur- who defeated Kannur 30-8
The medals and Certificates were distributed by international players Stephy Nixon and Subash J Shenoy
Special Awards
Promising Player s
Girls - Liya Shony (Thrissur)
Boys – Aravind (Kozhikode)
Best Player PS Viswappan Award
Girls -Amanda Maria (Ernakulum)
Boys – Johan Jenson
Best All round Performance:
Girls: Laya Maria Antony (Thrissur)
Boys : Immanuel (Eranakulum)
Detailed Scores
Final
Girls
• Ernakulum- 46(Amanda maria13, Maria Louis 10,Laya Maria Antony9) bt Thrissur-37(Liya Shony 16,Helen Joy9,Aleena Benny8)
Boys
• Ernakulum- 34 (Johan Jenson 10, Vasudev7,Immanuel 7) bt Kozhikode-14 (Aravind M6)
Bronze medal match
Girls
• Thiruvanthapuaram-30(Sayana Santhosh16,Aleena K Mathew7) bt Kannur-13(Tiyona Anu Philip7)
Boys
• Alapuzha-29(Aswin9,Alfaz6) bt Kottayam-27(Alby Mathew15)
Semi Final (Yesterday may 1)
Girls
• Thrissur-30(Liya Shony20) bt Kannur-8
• Eranakulum-37(Amanda Maria Rocha 12,Laya Maria Antony11)
Boys
• Ernakulum-35(Immanuel John10,Johnan Jenson 9,Vinay Shankar6,) bt Alapuzha-9
• Kozhikode-33(Aravind8,Aosbal7,Divindas7) bt Kottayam-25(Alby Mathew10)