36th Youth National Championship: Defending champs Punjab girls starts with a thrilling win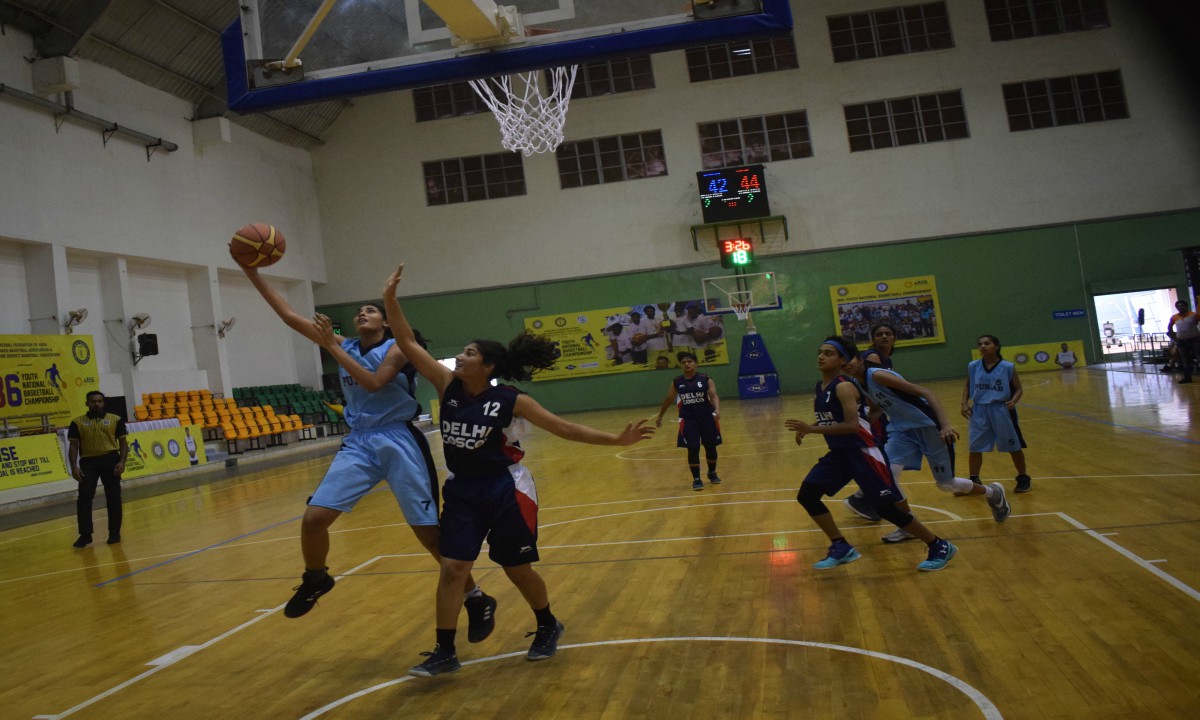 Coimbatore, May 14: Defending champions Punjab Girls won in extra time as they beat Delhi 74- 69 here on the 36th Youth National Basket Ball Championship for U 16 Boys & Girls 16. The championship is organised by the National Basketball Federation and is being held at the indoor stadium of PSG College of Technology from May 14 to 21.
In boys category, Karnataka overcame Kerala 67-64 .
Boys and girls teams from 25 states across the country will participate in the championship.
The championship was officially inaugurated by PSG Charity Institutions managing trustee L Gopalakrishnan while Mr Govindaraj, President of Indian Basketball Federation, presided over the function. Adhav Arjunan, Secretary, Tamil Nadu Basketball Association,G Selvaraj, President, Coimbatore District Basketball Association and Dr R Rudhramurthy, Principal, PSG College of Technology and president of PSG Sports club also attended the inaugural ceremony.
Rajasthan boys and Punjab girls are currently the defending champions of this competition.
Association have announced a prize mony of Rs.3,00,000/- for the winners and Rs.2,00,000/- for runners up & 3rd Prize of Rs.1,00,000/-. Best Players will receive Rs.50,000/.
In the league matches in boys division, defending champions Rajasthan started their campaign on a winning note as they beat Delhi(85-29) , while in other matches Uttar Pradesh beat Himachal Pradesh(87-26) Andhra Pradesh beat Goa(120-54) and Punjab beat Chhattisgarh (102-74)
In girls league matches, Kerala beat rajsthan 58-37, Karnatka beat Uttar Pradesh 63-36 ,Haryana beat Himachal Pradesh (67-21), West Bengal beat Jammu and Kashhmir (61-22), Chandigarh beat Assam (51-36) Pondacherry bt Odhissa (73-52) Andhra Pradesh beat Goa (74-33)
Boys
Group A
• Rajasthan-85(Digvijay Singh25, Shiva Kumar25, Lorendra Singh17) bt Delhi- 29(31-2,17-11,14-4,23-12)
• Karnataka-67(Achintya Krishna29,Manav22) bt Kerala-64(Pranav prince21,Abhinav .C. k13,Nithin baby9) (14-17,20-18,1-16,14-13)
Group B
• Uttar Pradesh-87(Harsh Dagar18, Rishab Jaiswar16,Robin Banarjee11) bt Himachal Pradesh-26(Ramdeep10) (15-5,22-4,16-10,24-7)
• Punjab- 84(Eknoor Singh25,Karan Singh15,Nawas Singh13) bt Chhattissgarh-43(Pranav Singh10) (12-13,24-8,25-23,13-7)
Group D
• Andrhra Pradesh-120(Muhammed Khaseel50,C M Sairaru16,G Pavankumar12) bt Goa-54(Sahil Desai11), (25-9,33-10,32-18,30-17)
• Utharkhand-63(Ritik26,Arshek12,DevStuta9 bt Jammu and Kashmier-50(Rishar24,Rinku10) (15-13,10-10,15-22,10-20)
Group F
• Assam-102(Rahul B 28,Prakssh23,Dipankar20,) bt Pondicherry-74(Abhay Pramod27,Barath18,Jsgsthesu16) (16-13,31-15,19-21,36-20)
Girls
Group A
• Punjab-74(Harshma Kaur26,Kanishka20) bt Delhi-69(Kritika32,Prakriti14) (19-14,13-22,18-14,24-19)
• Kerala-58(Ann Mary Zacharia 17, Aysha Khanza 14,Aleena Antony 13, Ashlin Shiju 13) bt Rajasthan-37 (Rasi Kotan14,Jiya Twari10) (20-6,16-10,16-7,6-14)
Group B
• Karnataka-63(Sunisha 12,Sanjana Ramesh11) bt Uttar Pradesh-36(Chaitali Rajesh12) (6-20,8-12,13-15,9-16)
Group C
• Haryana-67(Ritiks18, Ankush12) bt Himachal Pradesh-21(22-10,21-1,10-6,14-4)