36th Youth National Championship: Kerala girls and Haryana boys crowned champions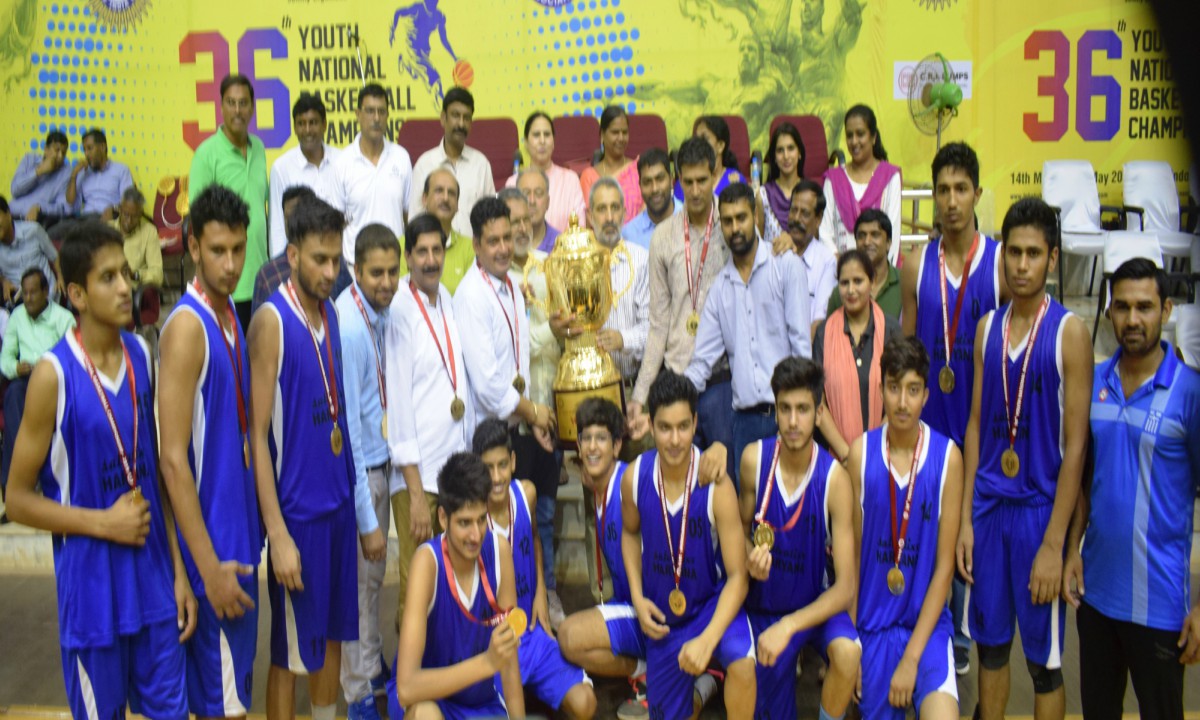 Coimbatore , 21st May 2019: Kerala girls and Punjab boys have been crowned champions of the 36th Youth National Basketball Championship for Boys and Girls here at the Indoor Stadium, PSG Technology.
The Championship was organized by the Coimbatore District Basketball Association under the aegis of the Tamil Nadu Basketball Association and the Basketball Federation of India.
Girls: Kerala beat Tamil Nadu 79-69
Kerala and Tamil Nadu- the two undefeated teams from the league phase finally faced off in the summit clash earlier on Monday.
Kerala girls had the early momentum as they lead by 20-14 in the first quarter . Kerala's international player Ann Maria Zacharia made her intentions clear from the start itself by making big blocks and scoring regularly. Kerala ended up the 1st Half with a 41-27 lead.
The second half saw Tamil Nadu Coach constantly urging his team to play high-pressure defense knowing that Kerala was fielding bigger, taller line up. However, the third quarter ended up with Tamil Nadu trailing 46-62 . The last quarter saw Tamil Nadu fighting back with some three pointers but couldn't surpass Kerala's lead and ended up with 79-69.
Ann Maria Zacharia top scored with 39 points followed by Aslin Shiju with 14 points. Sathya was the top scorer for Tamil Nadu with 30 points.
Ann Mary Zacharia was named MVP of the Championship, did a great job defensively also as she registered 25 rebounds, and 39 points.
Haryana beat Kerala 81-74
Kerala gave a good fight against Haryana in the boys finals as the first two quarters saw both teams exchanging leads frequently. The first two quarters had the score tied up at 17-17 and 19-19 respectively and the first half score read: 51-51. Haryana's Sahil who was adjudged as the MVP of the championship made the difference between two team as he scored a game high of 39 points supported by Akshay who scored 17 points . For Kerala Jim Paul and Pranav Prince scored 19 points each.
For the prize and souvenir distribution ceremony, Chandramukhi Sharma Secretary General , Arjuna Awardee Suman Sharma,Selection Committee Chairman Sakthi Singh, Indian senior Men Team Coach Vassic, Treasurer V Rangothaman
The top three teams received trophies and medals. Individual players were also awarded in the following two categories:
• Most Valuable Player: Girls: Ann Mary Zacharia of Kerlala , Boys: Sahil of Harayana
• Most Promising Player: Girls- Sathya Tamil Nadu ; Boys- Harihara Sudan (Tamil Nadu)
Girls
Finals
• Kerala- 79(Ann Maria Zachariah 39,Aslin Shiju 14,Jesly PS 9) bt Tamil Nadu -69 (K sathya30,B sandhya10) (20-14,21-12,21-19,17-23)
Boys
Finals
1. Haryana-81(Sahil39,Akshay17) bt Kerala-74(Prnv Prince19,Jim Paul 19) (17-17,19-19,18-24,20-21)
3-4 Place Match
Boys
• Rajasthan-92( Digvijay Singh 36, Jitendra KS23) bt Karnataka -68(Achintya K38,Manoj G M18) (24-12,21-22,24-22,23-13)
•
Girls
• Rajasthan-48(Manvi Srivastava18,Jiya Tiwari11,Rashi Kotan11) bt Punjab-47(Harsimram Kaur29)(9-5,11-9,14-14,14-19)