NBA FINALS: TORONTO RAPTORS vs. GOLDEN STATE WARRIORS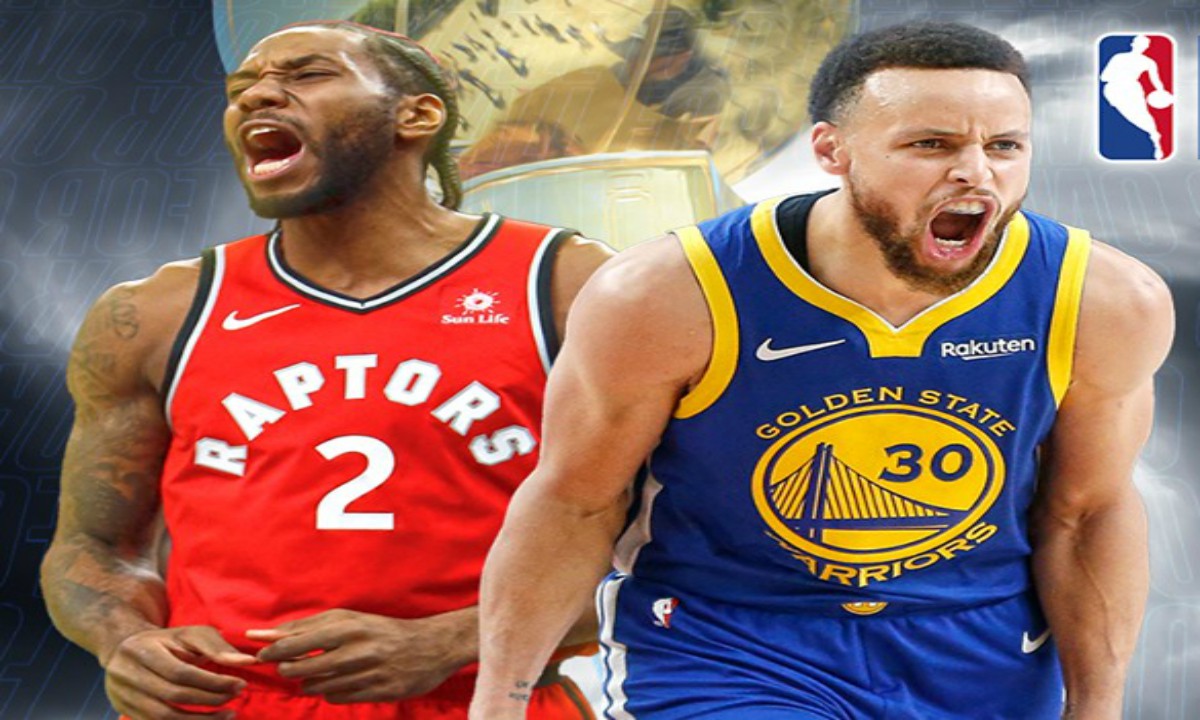 As the finals of this year's NBA is all set to start when Toronto Raptors face off with Golden State Warriors. Here we look at the history of NBA finals and the special features of this year's finals between two power blocks.
• Franchise First: Toronto has advanced to the NBA Finals for the first time, marking the league's first Finalist from outside the U.S.The Finals appearance punctuates a six-year stretch in which the Raptors have had their six best seasons since joining the NBA as an expansion franchise in 1995.
•Chasing History:Golden State has joined Boston as the only franchises to make five straight NBA Finals (the Celtics reached 10 in a row from 1957-66). The Warriors are now looking to put themselves alongside the Bill Russell-era Celtics as the only teams to win four NBA championships in five years (Boston won eight straight from 1959-66). They can also become the first team to win three straight titles since the Lakers from 2000-02.
•Seventh Heaven: If the Warriors win this series, they would earn their seventh championship and break a tie with Chicago (six) for the third-most titles in NBA history. Boston has an NBA-record 17 championships, followed by the Lakers with 16.
•International Flavor: The Raptors' makeup reflects the diversity of their home city and the global growth of the NBA. Their roster has players from England (OG Anunoby), Canada (Chris Boucher), Spain (Marc Gasol), the Republic of Congo (Serge Ibaka) and Cameroon (Pascal Siakam). President Masai Ujiri is from Nigeria, while coach Nick Nurse's staff includes assistants from Italy (Sergio Scariolo), the Democratic Republic of Congo (Patrick Mutombo) and Canada (Eric Khoury).
•Shining Stars: Toronto's Kawhi Leonard and Golden State's Stephen Curry enter the NBA Finals on a roll. Only four players in NBA history have scored more points than Leonard in a single postseason before the NBA Finals: LeBron James, Hakeem Olajuwon, Michael Jordan and Kevin Durant. Since Durant went out with a calf injury, Curry has averaged 35.8 points in five games – all victories for the Warriors.
•KD vs. Kawhi:If Kevin Durant returns from a calf injury, that would set up a phenomenal matchup with Kawhi Leonard. Their most recent postseason showdown was cut short when Leonard sustained a season-ending ankle injury in Game 1 of the 2017 Western Conference Finals while playing with the Spurs. Some in the media have been debating whether Kawhi or KD is the biggest free agent prize this summer.
•MVP KD: Kevin Durant will miss the start of the NBA Finals. If he were to come back later and play at a high level, he would have a chance to win the NBA Finals MVP Award for the third consecutive year. The only players to win three straight Finals MVP awards are Michael Jordan (twice) and Shaquille O'Neal.
• Curry in Canada:Stephen Curry's father, Dell, spent the last three seasons of his NBA career with Toronto (1999-2002). As a middle schooler in Toronto, Steph left coaches and teammates on the Queensway Christian Saintsin awe with legendary shooting and scoring performances. Steph's wife, Ayesha, was born and raised in Toronto. At 14, she moved to Charlotte (where she met Steph).
•Burnishing the Legacy: Much has been made in the media about how two-time regular-season MVP Stephen Curry has not been named Finals MVP in any of his three championship seasons (Kevin Durant won it twice and Andre Iguodala once). With Durant's status uncertain, will this be Steph's year if the Warriors prevail?
•Spitting Image: Toronto's Pascal Siakam is a multidimensional power forward who can defend multiple positions, serve as a playmaker and grab a rebound and lead the fast break – all qualities that his counterpart in this series, Draymond Green, has mastered. Siakam may not be Green just yet, but his dramatic improvement this season suggests that he is on his way to becoming an All-Star and All-Defensive Team selection like Green. As for Draymond, he has been playing some of the best basketball of his career during the playoffs.
•Heart and Soul:With seven years in Toronto, Kyle Lowry is the longest-tenured Raptor. That means he has experienced all of the postseason heartache in recent years. That also means, however, that he has been part of the best extended run in franchise history. The late-blooming Lowry didn't become a full-time starter until his fifth NBA season. He didn't make an All-Star team in any of his first eight. He's now been an All-Star in five straight years – all with Toronto. The tenacious 6-1 guard is the consummate competitor.
•Nurse Makes History: Nick Nurse is the first former NBA G League head coach to lead an NBA team to the NBA Finals. Nurse, the only coach to win NBA G League championships with two franchises, has made the NBA Finals in his first season as an NBA head coach. Steve Kerr also did this with the Warriors in 2015.
•Kerr Makes History:Steve Kerr is the first head coach to make the NBA Finals in each of his first five seasons. He is also the seventh coach overall to reach five NBA Finals, joining Phil Jackson (13), Red Auerbach (11), Pat Riley (9), John Kundla (6), Gregg Popovich (6) and K.C. Jones (5).
•Coaching Connection: When Steve Kerr was hired as the Warriors' coach in 2014, he reportedly was interested in adding Nick Nurse to his staff. Nurse ended up staying with Toronto to work under then head coach Dwane Casey.
•Lin's Homecoming: Toronto's Jeremy Lin grew up in the Bay Area. He played his rookie season with Golden State (2010-11) after going undrafted out of Harvard. The Warriors waived him before the 2011-12 season. He then spent two weeks with the Rockets before being claimed off waivers by the Knicks. Lin took advantage of his opportunity with New York and became an overnight global sensation.
•Sweeping Success:Toronto beat Golden State twice in a two-week span before Christmas, sweeping the two-game season series for the first time since 2001-02.In the first game, Kawhi Leonard (37 points) and the Raptors spoiled Kevin Durant's season-high 51-point performance as Toronto prevailed 131-128 in overtime on Nov. 29. In the second game, the Raptors overcame Leonard's absence to snap a 13-game losing streak at Oracle Arena with a 113-93 victory on Dec. 12.
•Right Said Fred: Toronto's Fred VanVleet had already made a name for himself by becoming one of the NBA's top reserves despite going undrafted from Wichita State in 2016. Now, he has become a folk hero in Toronto after sinking 14-of-17 three-pointers in the final three games of the Eastern Conference Finals – a hot streak that coincided with the birth of his son Fred Jr.
• KD and Serge:Kevin Durant and Toronto's Serge Ibaka were Thunder teammates for seven seasons from 2009-16. They helped lead the team to the 2012 NBA Finals, where OKC lost to Miami. In June 2016, the Thunder traded Ibaka to Orlando a few days before Durant agreed to sign with the Warriors.
•Go Big or Go Home:Raptors President Masai Ujiri made a big swing before the season (acquiring Kawhi Leonard) and another one during the season (acquiring Marc Gasol) to push Toronto to the next level in the wake of a disappointing Conference Semifinals sweep at the hands of Cleveland. He also fired 2017-18 Coach of the Year Dwane Casey, the most successful coach in team history, and replaced him someone who had never been an NBA head coach (Nick Nurse). Ujiri's boldness has been rewarded with Toronto's first Finals berth.
•Masai and Iggy:In 2012, current Raptors President Masai Ujiri was the Nuggets' general manager when Denver acquired Andre Iguodala from the 76ers as part of a blockbuster four-team trade that sent Dwight Howard from the Magic to the Lakers. Iguodala spent one season in Denver before a sign-and-trade deal landed him in Golden State – a move that took place a few weeks after Ujiri had left the Nuggets for Toronto.
•Winding Road: Golden State's Alfonzo McKinnie made his NBA debut with Toronto last season, appearing in 14 games with the Raptors and spending most of the season starring with their NBA G League affiliate. His NBA journey is inspiring: He went undrafted in 2015 andbegan his career in Mexico and Luxembourg before an open tryout with the Windy City Bulls led to an NBA G League stint and ultimately an NBA spot.
•Century Club: Stephen Curry needs to make two three-pointers to become the first player with 100 threes in the NBA Finals (he is already the career postseason leader with 447 threes). Curry is also five three-point attempts from passing LeBron James for the most in the NBA Finals and 13 attempts from passing LeBron for the most in the playoffs overall.
•UCLA Connection: Golden State's Kevon Looney and Toronto's Norman Powell were teammates at UCLA during the 2014-15 season. Both have established NBA roles despite being selected with the 30th and 46th picks of the 2015 NBA Draft, respectively. And both have been key contributors during the 2019 playoffs.
•Going Green: Toronto's Danny Green has struggled with his shooting in the playoffs, but the NBA Finals stage should bring back good memories. Green had a series for the ages in 2013 when he played for San Antonio against Miami: He set a then Finals record with 27 total three-pointers (Steph Curry broke it with 32 in 2016); set a Finals record for most threes in a game without a miss (5); and shot 7-of-9 from deep in another game. Green has the highest three-point percentage in Finals history among players with 50+ attempts (52.2).
•Fond Farewell: In the Finals, Golden State will play its final two or three games at Oracle Arena in Oakland before moving to the Chase Center in San Francisco next season.
•Big D:The sheer number of impact defenders in this series is impressive. Kawhi Leonard, Marc Gasol and Draymond Green have all been NBA Defensive Players of the Year. Klay Thompson and Danny Green are two of the NBA's most well-respected wing defenders. At 35, Andre Iguodala remains a defensive menace. And Pascal Siakam is the ideal modern big man, with the size to play inside and the mobility to guard outside.
•McCaw vs. Former Team: Patrick McCaw won NBA championships with the Warriors in each of the previous two seasons – his first two in the league. But a contract impasse with Golden State last summer led McCaw to sign an offer sheet with Cleveland and briefly join the Cavaliers before being waived and signed by Toronto. McCaw missed the Eastern Conference Finals while mourning the death of his brother.