Republic Cup: DPS Bangalore South and Baldwin Girls' High School crowned champions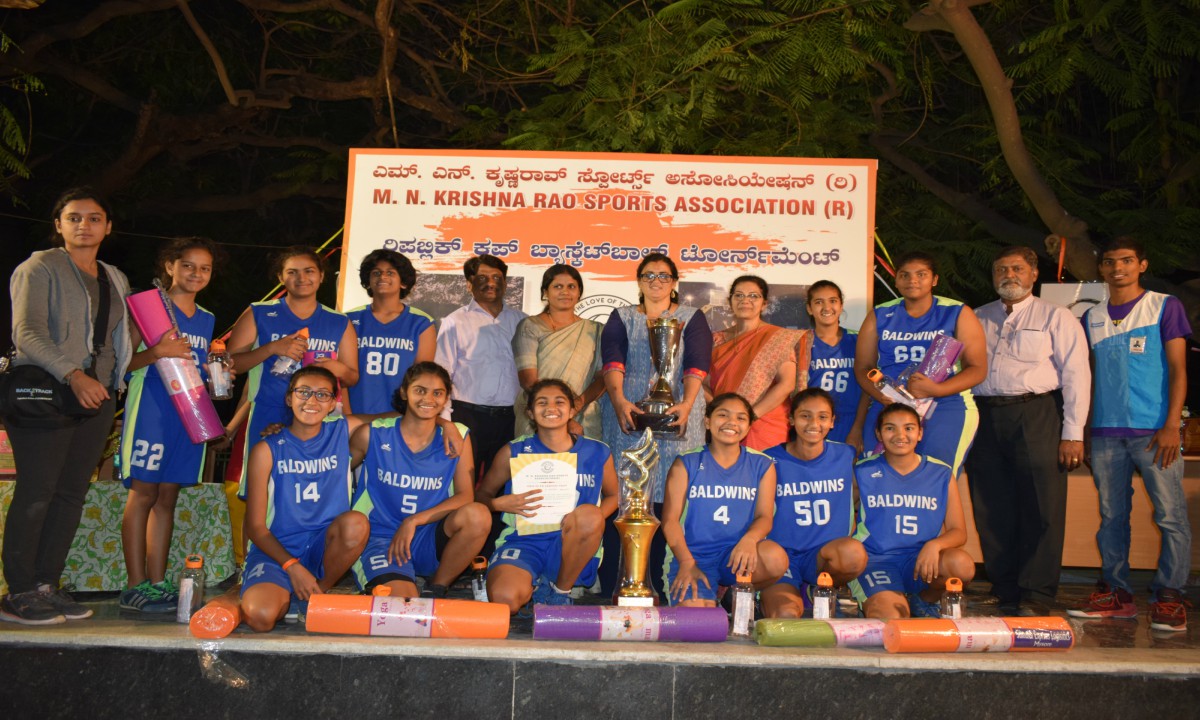 Bengaluru, 14th January 2019:The second edition of the Republic Cup inter-school basketball tournament was successfully conducted by the MN Krishna Rao Sports Association in the city.
The tournament was conducted between 20th to 22nd December and featured 15 schools and around 200 participants. The boys event was played in a knockout cum league format, while the girls event was held in a league cum knockout format.
Delhi Public School South and Baldwin Girls' High School emerged victorious, winning the Abdul Rehman Memorial Rolling Trophy and the MN Krishna Rao Memorial Rolling Trophy, respectively.
Individual Awards
• Most Valuable Player: Tarun, National Hill View Public School (Boys); Trisha, Baldwin Girls High School (Girls)
• Leons Defensive Player: Vipul, Delhi Public School South (Boys); Diya, Baldwin Girls' High School (Girls)
• Upcoming Player: Kaushik, Sri Kumaran Public School - CBSE (Boys); Dharshana, New Horizon Public School (Girls)
Final Round Results
Boys Super League
1) Delhi Public School South (Vipul 20, Mihir 9) bt National Hill View Public School (Tarun 14) 50-24 [13-8, 12-5, 12-11, 13-0]
2) Sri Kumaran Public School CBSE (Vedanth 21, Kaushik 20) bt National Hill View Public School (Tarun 27) 58-48 [17-19, 13-11, 13-13, 15-5]
3) National Hill View Public School (Tarun 23, Pratheek 13) bt New Horizon Public School (Aryan 9) 46-24 [15-12, 11-5, 10-0, 10-7]
4) Delhi Public School South (Akarsh 14, Vipul 12) bt Sri Kumaran Public School CBSE (Akshay 7, Vedanth 7) 49-32 [17-4, 6-7, 9-6, 17-15]
5) Sri Kumaran Public School CBSE (Akshay 18, Vedanth 17) bt New Horizon Public School (Kruthik 10) 48-38 [9-12, 10-9, 7-7, 22-10]
6) Delhi Public School South (Vipul 12, Kushal 12) bt New Horizon Public School (Vijay 9) 50-31 [17-15, 13-2, 10-9, 10-5]
Girls
Finals
1) Baldwin Girls' High School (Sunishka 11, Trisha 10) bt New Horizon Public School 33-14 [9-2, 11-2, 6-7, 7-3]
Semifinals
1) New Horizon Public School (Dhasharna 11) bt Sri Kumaran Public School CBSE (Prashitha 9) 24-15 [2-4, 7-2, 9-4, 6-5]
2) Baldwin Girls' High School (Sunishka 18, Trisha 14) bt St Charles High School 38-12 [11-4, 10-2, 8-4, 10-2]