FIBA Intercontinental Cup to start tomorrow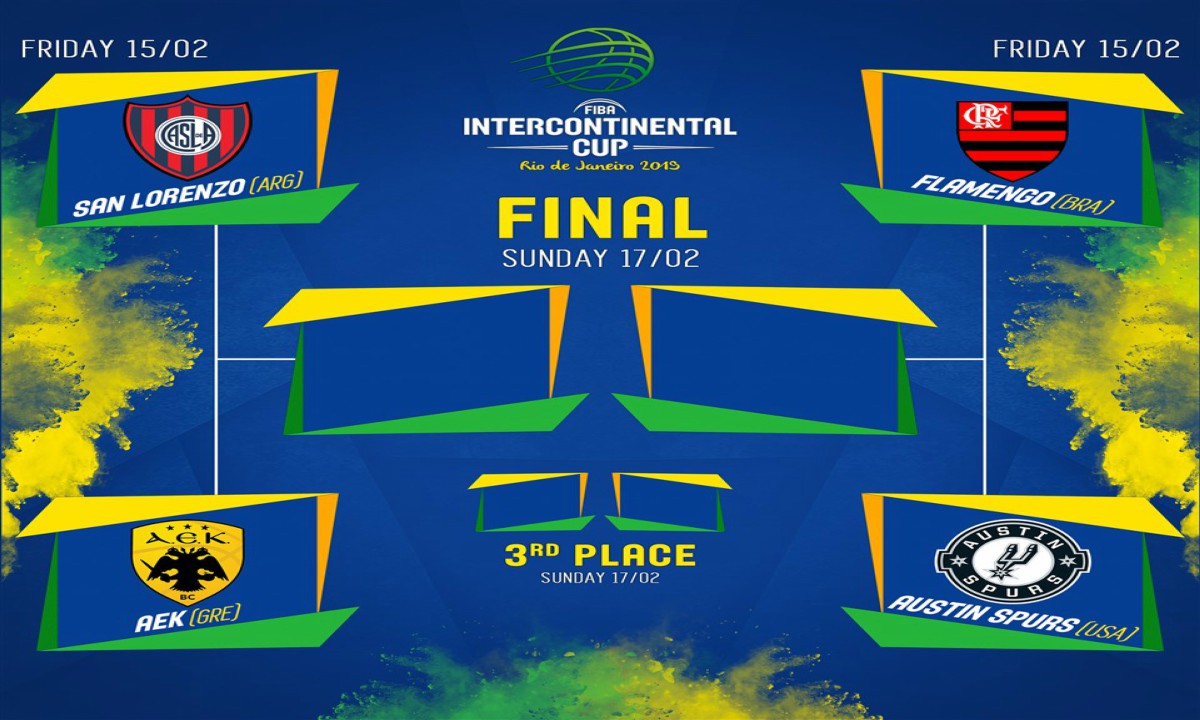 RIO DE JANEIRO (Brazil) - FIBA Intercontinental Cup starts tomorrow with reigning champions from the NBA G League, Basketball Champions League and DIRECTV Liga de las Americas battles it out for what is considered as the Club World Cup in basketball.
The four-team competition will be played at Carioca 1 Arena- the iconic venue that hosted the Olympic Basketball Tournament during the Rio 2016 Games. It will be played in a Final Four format, with two Semi-Finals on Friday (February 15), followed by a 3rd-Place Game and Final on Sunday (February 17).
Know the final four teams
Flamengo
Known as the 'Pride of the nation', Flamengo is one of Brazil's most decorated basketball clubs. The team has won an astounding 44 Rio de Janeiro State Championships, the first in 1933 and then 10 straight from 1951 to 1960. The club then went on to win another 12 State Championships from 2005 to 2016. Flamengo will have the home advantage in this edition of intercontinental cup.
Austin Spurs
The Texas based club won the NBA G league last season which gives a huge boost to their confidence at this year's intercontinental cup . They were also G League champions in the 2011-12 campaign with a 33-17 regular season record and a 6-3 record in the Playoffs, where they beat the Los Angeles D-Fenders in the Finals. Austin have won 15 of their first 34 games this season and will look to extend their form in the international arena.
AEK
AEK are going through one of the finest spells in the club's history. The outfit is almost a year removed from an 88-83 Greek Cup triumph over Olympiacos (AEK beat Panathinaikos, 73-69, in the Semi-Finals), while eight months ago the team hosted the Basketball Champions League Final Four in front of a roaring Athens crowd and beat UCAM Murcia, 77-75, in the Semi-Finals before knocking off AS Monaco Basket, 100-94, in the Final. That Basketball Champions League title defense is still on track, with AEK finishing the Regular Season with a 12-2 mark to top Group C. In Greece's top flight, the team is flying high in fifth place with a 11-5 record.
San Lorenzo
San Lorenzo has probably garnered more attention in recent times than at any point in the club's history. This comes as no surprise considering their run of three consecutive domestic titles, and their run to be crowned DIRECTV Liga de las Americas champions last year. So far this season, they have claimed victories in all 11 games and their defense of the Liga de las Americas crown also got off to a great start as they beat Mogi Das Cruzes (103-78), San Martin de Corrientes (71-59) and CD Las Animas (93-70) in early February to seal their place in the Semi-Finals.
(Inputs from Official FIBA website)