18th Champions Trophy: Customs, St Josephs marches on into the semis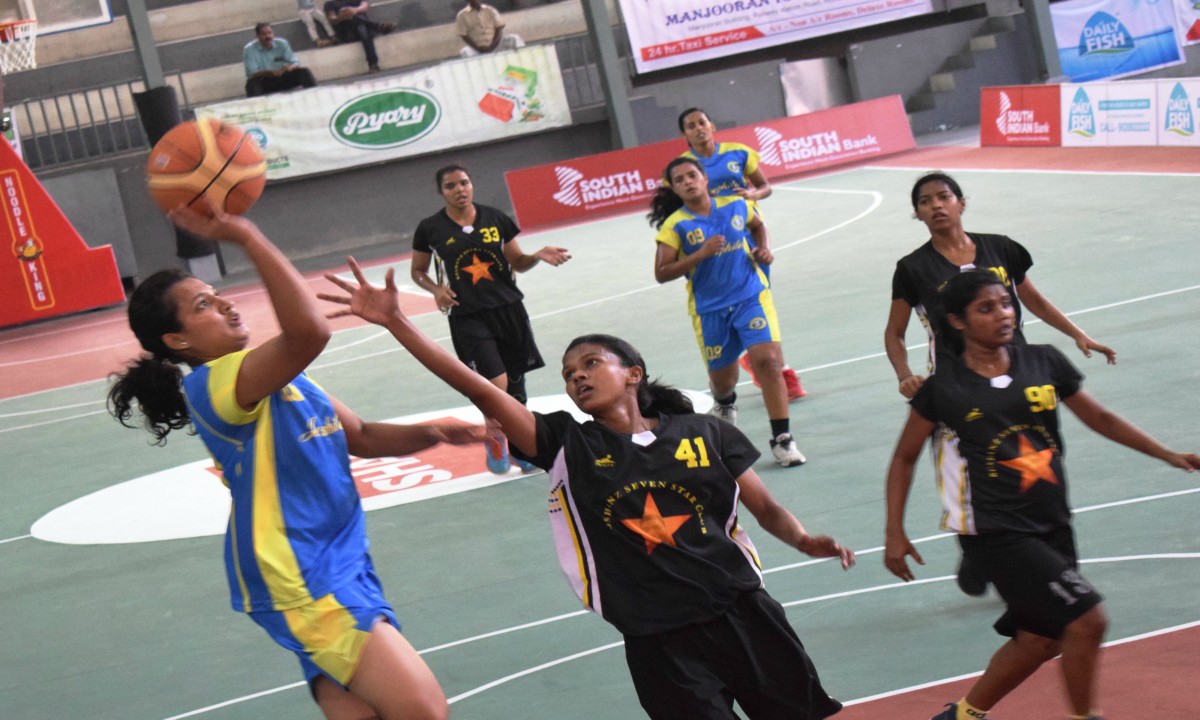 Aluva, Feb 22: Customs and Central Excise will meet Kerala Police in the semi finals of the 18th Edition of the Champions Trophy Inter Club Basketball Championship for Men and Women, here at the flood-lit Carmel Club Indoor Stadium.
Customs and Central Excise win over KE college, Mannanam(97-73) to book a birth in the semis while Kerala Police beats Carmel Club, Aluva by 58-44 in Men's division quarter finals.
In a Women's Quarter final match, Calicut university champions St Josephs College, Irinjalakuda eases past Roshans Club, Aluva(61-48) to meet Kerala Police in the semi finals.
Sree Kerala Varma College, Thrissur also made it into the last four as they overcome Allapuzha Basketballers by 38-25 and will meet the winners of KSEB vs Beatrice Club, Kannur match in the semis.
On a late pre quarter final match on Tuesday, K E College Mannanam defeated Marian College, Kuttikannam(49-44).
Detailed scores
Quarter finals
Men
• Customs and Central Excise Kochi 97(Manoj R 26,Robin S 16,Amith Sebatian 15,Eudric Oerera13) bt KE College Mannanam-73(Moncy 24,Josy 20,Jissmon12)
• Kerala Police - 58*(Sreejith Nair 16,Jijo Thankachan13,Jomon Jose10 ) bt Carmel Club, Aluva-44 (Ebin Wilson10,Mathew8)
• SKVC Thrissur-38(Amal Raghu7) bt Allapuzha Basketballers -25
Women
St Josephs College Irinjalakuda- 61(Justeena 20,Aleena Seby 13,Lithara10) bt Roshans 7 star Aluva-48(Anju A J21,Athulya N 12,Arya K R 10)
Pre Quarter Final
KE College, Mannanam- 49(Jossy joseph16,Jissmon Jiji10) bt Marian College, Kuttikkanam -44(Thomas Sebastian 26,Akhil P Murali12)
Schedule
5.30 Pm S E S College Srekantapuram Vs Assumption College Changancherry(Quarter Final)
6.15 Pm Customs and Central Excise Kochi Vs Kerala Police (Semifinal)
7.30 Pm KSEB , Trivandrum Vs Beatrice Club, Kannur (quarter Final )