43rd Kerala State Junior championship: Kottayam boys and girls crowned champions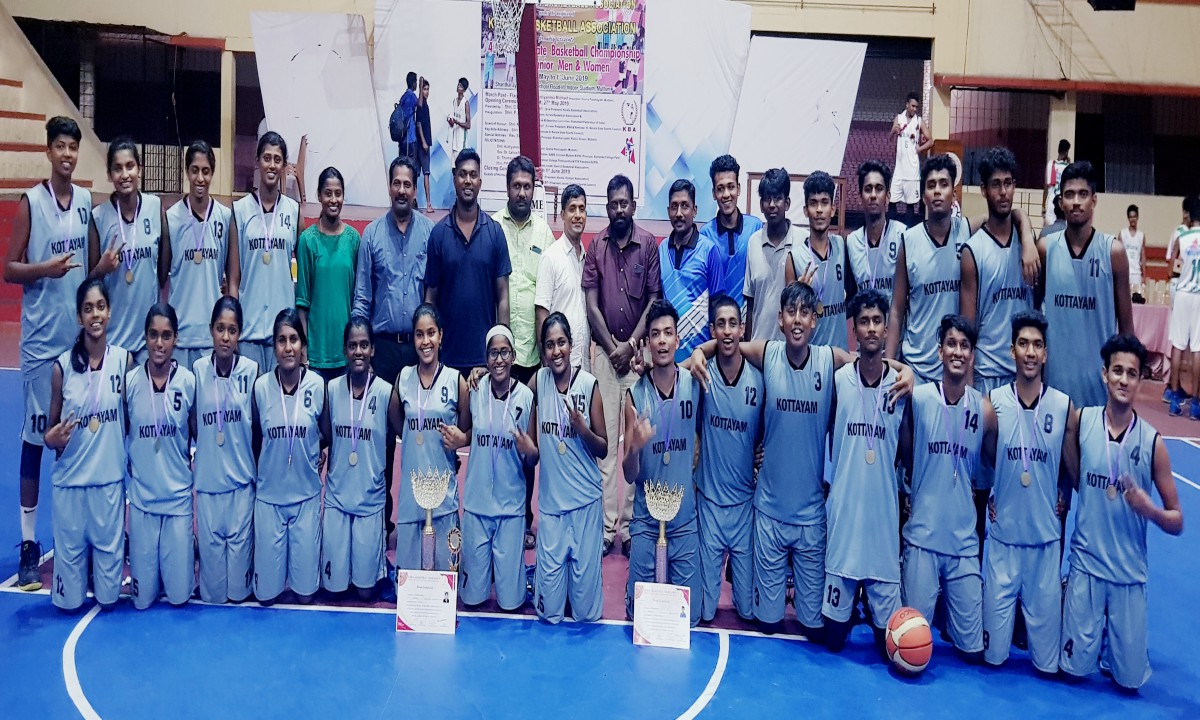 Thodupuzha: The finals of the 43rd Edition of Kerala State Junior Basketball Championship for boys and Girls saw two exciting final clashes both ending in Kottayam teams' favor. The girls finals was an electrifying one in which Kottayam, anchored by their International player Ann Mary Zacharia- who contributed 50 points for her team, defeated Thiruvanthapuram by a score line of 96-95. The match went for two extra periods after which the winner was decided.
In another thriller, Kottayam beat host Idukki by a score of 82-67 here at the Shanthal Jyothi Public School Flood lit Indoor Basketball Stadium
Trivandrum girls, inspired by their Senior International player Sreekala R, edged the match initially as they lead 17-12 after the first quarter and ended the interval with a good lead of 44-28.
Trivandrum then continued their domination in the third quarter and lead 57-46 before the final quarter.
Trivandrum started to lose the match committing fouls starting with their semi final star Krishna Priya- the first one to go out with five fouls, followed by their talismanic player Sreekala R- who also was taken off from the game for committing five fouls.
Kottayam also suffered a setback when their tall and lanky International Anu Maria committed five fouls and was taken off the game -which forced Ann Maria fight a lone battle as she contributed 50 points for her team and helped Kottayam end the regular playing time with the score tied at 74-74.
The game then went to an extra period which saw the scores tied at 84-84.
The second extra period saw Kottayam taking the championship piping Trivandrum by a scoreline of 96-95 .
Sree Kala was the top scorer for Trivandrum with 28 Points.
Kottayam boys defends title
Defending champions Kottayam came to the finals with an unbeaten record and deservedly beat Idukki in the final game.
Kottayam, with the help of dominant players from St Ephrems School started the 1st Quarter leading 22-16. Idukki- the host team fought back in the second quarter and ended up the 1st half with a 2-point deficit (40-38)
The third quarter saw Kottayam increasing their lead through Sajeesh- the top scorer of the Team (30points) and their international Jerome Prince. The 3rd quarter ended with a lead of 62-38 and by the final quarter the score read: 82-67 .
Bronze for Trivandrum Boys and Kannur Girls
Trivandrum boys anchored by NBA academy trained Pranav Prince defeated Kozhikode 65-38 while Kannur girls beat Thrissur 83-72 to claim the Bronze medal.
In the Semi Final matches, Trivandrum girls beat Thrissur 86-83 and in Boys category Idukki scrape past Kozhikode (62-61) to reach the finals.
The medals and Certificates to the winners were distributed by IPL Star and Renji captain Sachin Baby
The top three teams received trophies and medals. Individual players were also awarded in the following two categories:
o Most Valuable Player: Girls Ann Mary Zacharia, Kottayam, , Boys- Jerome Prince Kottayam
o Most Promising Player: Girls- Sreekal R, Trivandrum ; Boys- Tom Jose, Idukki
Derailed Scores
Girls Final
• Kottayam-96(Ann Mary Zacharia50,Anu Maria 15) bt Trivandrum- 95(Sreekala R 25,Haleena Jan 22,Chinnu Koshy 15,Krishnapriya 11)
Boys final
• Kottayam-82(Sajeesh30,Jerome Prince 22, Aaron Blessen 12,Nithin 12) bt Idukki-67(Tom Jose2 8,Tony Benny 16,Noyal Jose 14)
Bronze Medal
Boys
• Trivandrum- 65(Pranav Prince 21, Abhinav 14 ) bt Kozhikode-35(Ajin C Nair15)
Girls
• Kannur- 82 (Joma Geo21,Nandana 18, Jesly PS 12) bt Thrissur- 72(Akshaya Philip33,Sandra KA 14, Ann Maria Johnny11,Aparna SSadasvan11)
Late Semi Final matches on Friday
Girls
• Trivandrum-86(Krishnapriya 31,Ameesha Jose 18, Sreekala R 11) bt Thrissur-83(Akshaya Philip 26,Ann Mary Johnny 21, Sandra KA 15, Aprna Sadasivan 14)
Boys
• Idukki62(Tom Jose 18,Noyal Jose 16,Tony 11,Jordy Dais 10) bt Kozhikode-61 (Ajin C Nair17, Nithin 10, Muhammed10)