NBA Finals: Warriors survive first elimination game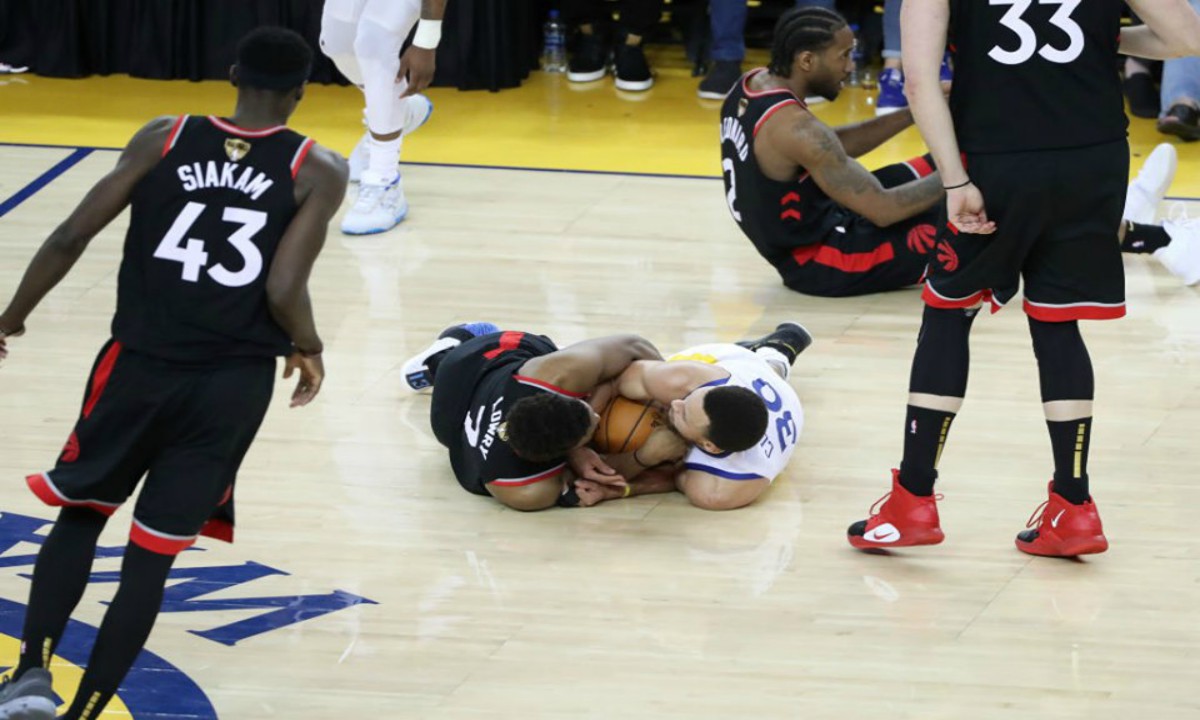 Toronto, 11th June 2019: A few hours before tip off of Game 5 came the news that Kevin Durant would be back in the starting line up for the Golden State Warriors.
Durant's return appeared to be timed almost perfectly as the Warriors were down a 1-3 hole in the 2019 NBA Finals against the Toronto Raptors.
Durant, who had been out for over a month with a right calf injury, seemed eager to add to his already impressive Playoffs resume. Knocking down his first three threes, it was immediately apparent what the Warriors were missing- a lethal scorer who spreads the floor and with his mere presence gives more space for the 'Splash Brothers' Stephen Curry and Klay Thompson to operate.
Raptors, who, in Game 3 had opted for a 'Box and 1' defensive strategy when both Durant and Thompson were missing, now struggled to contain the three pronged Warriors attack. Warriors led 34-28 at the end of the first quarter.
A few minutes into the second quarter, came our first dramatic twist of the game, with Durant falling to the ground clutching his lower right leg. Durant knew immediately that his injury had not fully healed and hobbled out of the court into the locker room accompanied by a worried looking Iguodala and Curry. Later it was confirmed that Durant had left the arena and is scheduled for an MRI tomorrow. It is unlikely he will return for Game 6.
With Durant out of the equation, Warriors checked in former All-Star DeMarcus Cousins who immediately had an impact scoring nine points in a little over 6 minutes and keeping his team up 62-56 at halftime.
The Raptors were torrid with their outside shooting in the first half going just 2 of 12, while the Warriors were an impressive 11 of 21.
In the second half, the Raptors started to knock down some much needed threes, led by Fred VanVleet and Kawhi Leonard.
The Warriors, who at one point, led by as many as 14 points, saw their lead vanish as Leonard stepped on the gas, aided by VanVleet and Serge Ibaka.
With around six minutes remaining for the final buzzer, and after trailing through most of the game, the Raptors finally took a decisive 103-97 lead and it appeared that the Warriors were done for.
That's when the Splash Brothers struck yet again, going on a 9-0 run of their own to retake a crucial 106-103 lead.
In the frenetic last minute, Draymond Green and DeMarcus Cousins both committed costly errors- Green called for a backcourt violation and Cousins for an illegal screen. This gave the Raptors a much needed lifeline and a chance to hit the game winning shot. However, guard Kyle Lowry — who had missed a wide open three pointer a couple of possessions earlier, followed by converting a quick layup in a two-for-one situation — was way off on the corner three to give the Warriors an ugly, albeit vital season saving victory.
Final Score: Golden State Warriors bt Toronto Raptors 106-105
Upcoming schedule
Game 6: Friday, June 14, 6:30 a.m. IST
Game 7: Monday, June 17, 5:30 a.m. IST*
*if necessary