KIT DISTRIBUTION CEREMONY FOR THE INDIAN SENIOR MEN'S TEAM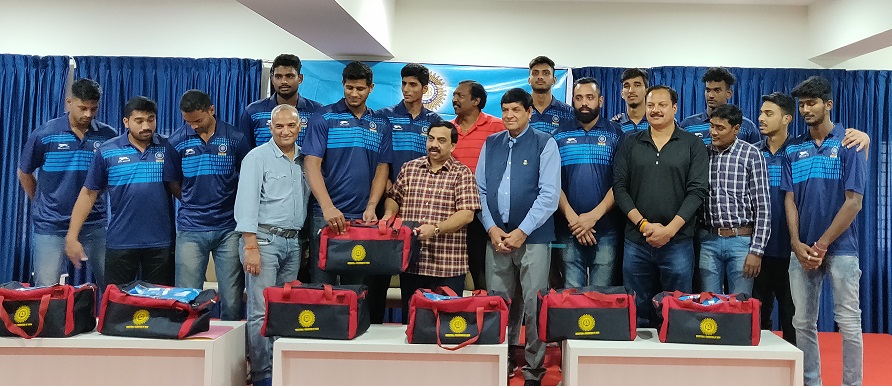 The Indian Senior Men's Team would be participating in the Super Kung Shueng Cup (SKS) in Hong Kong from 11th – 16th December 2018. India would be playing Hong Kong and Thailand in its early stages of the championship.
In the previous SKS Cup held in 2016, India secured a Bronze medal beating Hong Kong 90-60 in the third place game.
List of the Indian Contingent:
Players
Sr.No. Name State Uniform
1 Jeevanatham Pandi Tamil Nadu 13
2 Loveneet Singh Atwal Punjab 8
3 Pratyanshu Tomar Karnataka 17
4 Vishesh Bhriguvanshi Uttar Pradesh 9
5 Jatin Shokhanda Chandigarh 34
6 Princepal Singh Punjab 12
7 Anil Kumar BK Karnataka 24
8 Sejin Matthew Kerala 11
9 Arvind Kumar Tamil Nadu 5
10 Akilan Pari Tamil Nadu 66
11 Arvind Arumugam (C) Karnataka 15
12 Justin Joseph Tamil Nadu 7
Coaches and Officials
13 Sat Prakash Yadav Head Coach
14 Aman Sharma Assistant Coach
15 Raj Kumar Dubey Physiotherapist
16 Shafiq Shaikh Team Manager
17 Biswajit Ojha FIBA Referee