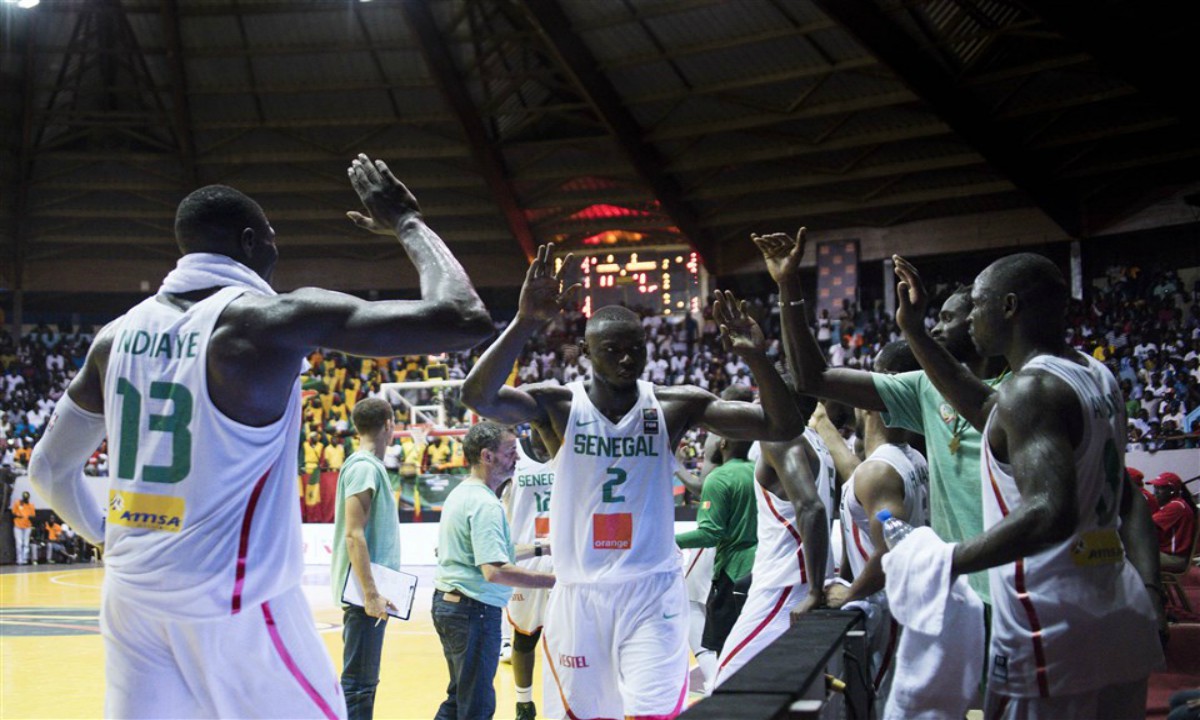 As African teams Senegal,Nigeria and Cot De Ivory prepares for the 2019 WC in China , pivotal players from these three African nations shares their views on their respective team's chance at WC and more.
Senegal, a team to reckon at this WC
Senegal's Djibril Thiam feels they can no longer be underestimated by opponents and he is making sure to reiterate that they will head to this year's FIBA Basketball World Cup in China ready to get to the next level.
Placed in the so-called 'Group of Death' alongside Lithuania, Canada and Australia, Senegal will have bring out there best to go to the next round.
The 32-year-old Thiam adamantly believes that tenacity and "aggressive defense" have been key to their success recently, and will continue to be in China.
Thiam remembers how Senegal's game plan worked in the 2014 WC in which the team implemented their defensive game plan to full effect and he thinks the same strategy could Senegal this time also. He said that focusing on defensive game is important to beat opponents like they did Peurto Rico and Croatia in Spain.
The 2.05m (6ft8in) forward, who recently helped SOPCC Basket earn promotion in France, insists their 16th-place finish in Spain last time didn't come by accident.
"We are going to China with that goal in mind. We want to make things happen in China," Thiam emphasized.
The 'Teranga Lions' will play their Group H campaign in Dongguan from September 1-5. If things go according to plan, and they finish in the top two they will move to Group L, where they will face one of the first two teams from Group G that consists of France, Germany, Dominican Republic and Jordan.
Thiam, who missed out on the 2014 World Cup squad but played a sizable role in securing qualification for the 2019 edition of the flagship event.
As one of the more experienced players on the national team, he was among the top minute-getters on the Senegalese selection that went 10-2 in Group F of the African Qualifiers to punch the ticket to China.
When asked about his chances of being shortlisted this time around, Thiam remained upbeat.
Nigeria's Al-Farouq Aminu considers Group B games as Three Finals
The FIBA Basketball World Cup 2019 will be anything but an uncharted territory for Nigeria, at least that's what Al-Farouq Aminu - one of the team's finest players - believes.
The No.1 team in Africa - according to FIBA World Ranking presented by NIKE, registered a 10-2 record in the World Cup Qualifiers to return to FIBA's flagship tournament for the first time since 2006.
And being drawn in Wuhan's Group D, which consists of Argentina, Russia and Korea gives Aminu a huge sense of deja vu.
In four meetings against Argentina, dating back to 1998 and including duels in the Olympics and World Cup, Nigeria recorded a 0-4 mark. And although they had a remarkable 2012 Olympic Qualifying Tournament campaign in Caracas, Venezuela, they fell short against Russia.
Now, Aminu told FIBA.basketball, it's all about building on their recent growth as team and try to be one of the group's two teams to advance to the Second Round.
"The first three games of the First Round are going to be our first Finals," Aminu admitted.
We will have to be ready and focused from the beginning of the competition, and we won't have any room for mistakes."
Assessing Nigeria's most familiar opponent in the group, Aminu described Argentina as a very experienced team. "They play with a lot of intensity. We will have to bring our A game against them," he said.
Korea] are going to play close from home, so we can expect a lot of fans coming from Korea to cheer and support them," the Portland Trail Blazers forward insisted, adding: "The group is very open and every team has a chance to make it to the Next Round. It's going to be a tough battle, but we will be ready."
Aminu has become one of Nigeria's flag bearers in recent years. As a key member of Nigeria's FIBA AfroBasket 2015 squad, the 28-year-old forward sat out the 2016 Rio Olympics, but he hopes to make his World Cup debut in style.
The national team has been improving a lot in the last couple of years, and going to World Cup is another proof of our improvement."
Charles Abouo on why a strong start can pave way for Cote d'Ivoire's success at China 2019
Charles Abouo knows what he talks about when he urges his Cote d'Ivoire teammates to use a strong start and even a stronger finish in Group Phase of the FIBA Basketball World Cup 2019 in China.
For Abouo, who made his World Cup appearance almost nine years ago, that's the only way for the 'Elephants' to survive a tough Group A, which consists of hosts China, Venezuela and Poland.
Back in 2010, Abouo and Co opened their Group Phase campaign with a loss against hosts Turkey. A day later, an 83-73 defeat against China crushed their expectations for a first win, and when they realised that enough was enough, they pushed Russia to the limit on Day 3 - in what was one of Cote d'Ivoire's best displays in the tournament - yet they registered their third defeat (72-66) in as many games. A 97-60 defeat against Greece followed, but beating Puerto Rico in the final day of Group C became a do-or-die scenario for the West Africans who still had a chance to move on.
"I have never won a game that felt like a loss," Abouo said in the aftermath of Cote d'Ivoire's 88-79 win over Puerto Rico as they needed a 12-point win to advance to the Second Round.
Fast forward to today, and the former Brigham Young University standout who is on the books of Blois Basket in France's PRO B, believes they can do better this time around.
We want to get out of the pool play and advance to the Second Round because that's when everything happens and go deeper in the tournament. That's our main focus. We weren't able to do that last time around. The tournament actuality starts at the pool play."
And to achieve that, Abouo and five others -who featured at Turkey 2010 and are poised to return this summer- will look to share their World Cup experience with newcomers Vafessa Fofana, Bryan Pamba and Jean-Francois Kebe.
Similarly to what happened in 2010 in the Turkish capital of Ankara, Cote d'Ivoire will open their FIBA Basketball World Cup 2019 against the host country in Beijing.
"Our chances are pretty good. We are in good shape, we have a really good opportunity to do well," a confident Abouo pointed out. "Last time we were in a tough group even with one victory we were still one three-pointer away from going to the Second Round.
Even though Abouo sat out the last window of the FIBA Basketball World Cup African Qualifiers, he followed his teammates' effort to come out with three important victories that ensured their fourth World Cup ticket in the history of the competition.
The impact of qualifying for the 32-nation World Cup, Abouo recalled, is huge. "The most important thing about this qualification is to be able to show people who you are. We have an opportunity to give a bit of exposure to the country and also shows that there are some good basketball players in Cote d'Ivoire.
"Even for people back home they can see that we do have some potential in the sport, and it can encourage kids to play the game. It's gonna be great marketing, a great tool to put Cote d'Ivoire basketball on the international basketball map, especially if we do a good job and advance to the next round."
Cote d'Ivoire will open their FIBA Basketball World Cup quest against China on Saturday, August 31.
Related Articles