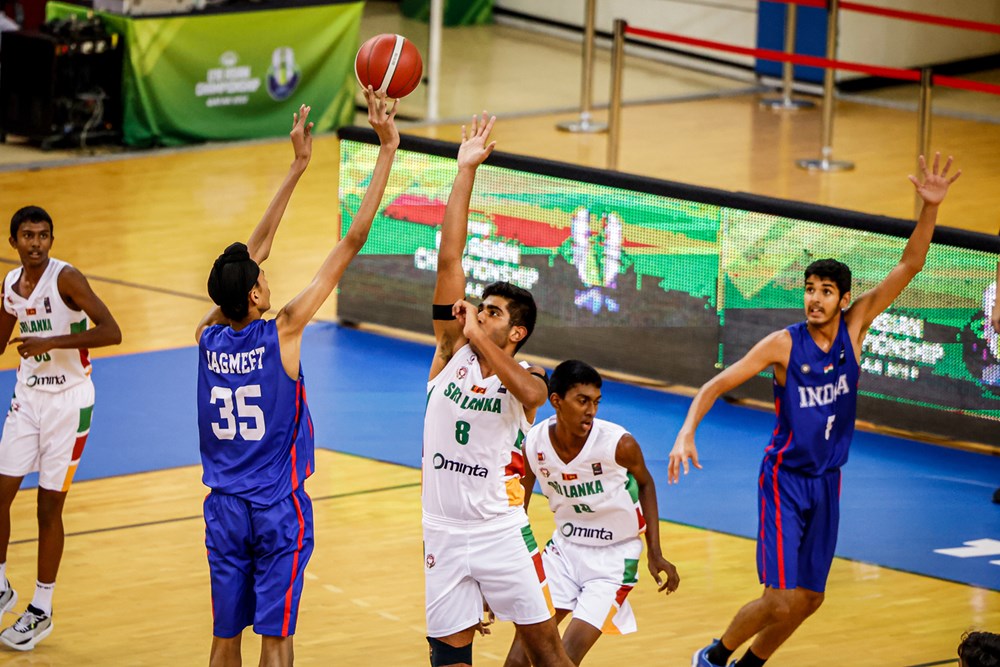 Doha, Qatar, September 20, 2023 - In a lopsided encounter last evening at the FIBA U16 Asian Championship held in Doha, Sri Lanka's young basketball talents faced a formidable Indian squad. Unfortunately for the Sri Lankan team, they couldn't match the intensity and skill of their Indian counterparts, resulting in a resounding 73-point victory for India.
The Indian team displayed superior teamwork and shooting efficiency, dominating all aspects of the game. India's strong defensive presence resulted in 14 steals and 9 blocks, leaving Sri Lanka struggling to find open shots.
Ankush was the standout performer for India, scoring 27 points and contributing 7 rebounds. Mirthun Vel Dhanasekar contributed 17 points, and Tajinderbir Singh added 13 points while also impressing with 6 steals. Lokesh Kumar Sharma chipped in with 12 points, and Kailash Bishnoi contributed 10 points, further underscoring India's offensive firepower. Notably, Jagmeet Singh was a defensive wall with 5 blocks, highlighting India's all-around excellence.
In contrast, Sri Lanka faced significant challenges. Floor leader Anthony Bernard struggled to make an impact, turning the ball over a whopping 15 times. Centre Vishwa Herath was a bright spot for Sri Lanka, with 22 points and 12 rebounds, showcasing his determination and skill. Forward Chamindu Ma W Wijesinghe Mudiyanselage showed resilience on the boards, grabbing 18 rebounds in a valiant effort.
While Sri Lanka showcased individual brilliance through players like Herath and Mudiyanselage, its Asian Championship journey has ended with a 0-3 record, and it faces the task of regrouping and improving their game for the challenges that lie ahead.
For India, it has secured a spot in the pre-quarterfinals, against hosts Qatar, to be played on September 21 at 7:30 pm IST.
Final Score:
India (Ankush 27 pts, Mirthun Vel Dhanasekar 17 pts, Tajinderbir Singh 13 pts 6 stl Lokesh Kumar Sharma 12 pts, Kailash Bishnoi 10 pts, Jagmeet Singh 5 blk) bt Sri Lanka (Vishwa Herath 22 pts 12 reb, Chamindu Ma W Wijesinghe Mudiyanselage 18 reb) 112-39 [33-4, 35-17, 25-10, 19-8].
Related Articles