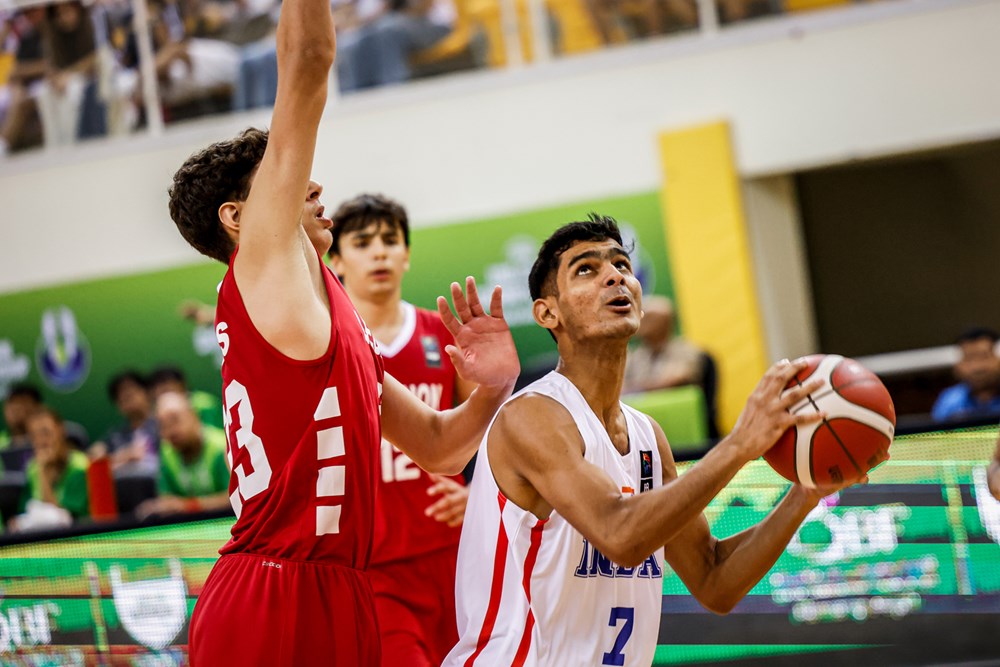 Doha, Qatar, September 19, 2023 - In an electrifying matchup at the FIBA U16 Asian Championship, India triumphed over Lebanon in a game that kept fans on the edge of their seats. With impressive performances from key players, India emerged victorious with a final score of 76-69.
The game unfolded with India taking control early on, establishing a 27-16 lead by the end of the first quarter. They maintained their advantage at halftime with a score of 46-28. However, Lebanon launched a spirited comeback in the second half, outscoring India 41-30 in the final two quarters.
Despite India's persistent turnover issue, conceding 37 turnovers, their strong defensive rebounding and three-point shooting (36.4%) helped compensate for the mistakes. Lebanon struggled from beyond the arc, shooting at just 8.7%.
Key Performers Shine:
• Lokesh Kumar Sharma proved to be the driving force behind India's win, delivering an outstanding performance with 24 points and 10 rebounds. His scoring prowess and tenacity on the boards were instrumental in securing the victory.
• Mohit Jogchand also played a pivotal role, contributing 20 points to India's total. His scoring ability, especially from beyond the arc, provided a crucial offensive boost.
• Kailash Bishnoi showcased his skills on both ends of the court, posting a double-double with 13 points and 10 rebounds, including five offensive boards. Bishnoi's presence in the paint was crucial for India's success.
Lebanon's Resilient Effort:
Lebanon put up a valiant fight, led by the impressive performance of Jason El Dekss, who contributed 22 points and grabbed 15 rebounds. His dominant presence in the paint made him a force to be reckoned with.
Ramy Hachem of Lebanon made history with a remarkable 10 steals in the game, showcasing his defensive prowess and determination.
Historic Win for India:
This victory holds historical significance as it marks India's first-ever triumph over Lebanon at the U16 level, a feat achieved after three previous encounters. Importantly, this win underscores India's growing prominence on the international basketball stage.
What's Next:
India's impressive victory positions them well in the tournament. They are set to face Sri Lanka in their final group phase game, with the opportunity to secure the second seed in Group A behind Australia. This achievement would guarantee them a spot in the pre-quarter finals.
Final Score:
India (Lokesh Kumar Sharma 24 pts 10 reb, Mohit Jogchand 20 pts, Kailash Bishnoi 13 pts 10 reb) bt Lebanon (Jason El Dekss 22 pts 15 reb, Ramy Hachem 10 stl) 76-69 [27-16, 19-12, 16- 21, 14-20].
Related Articles