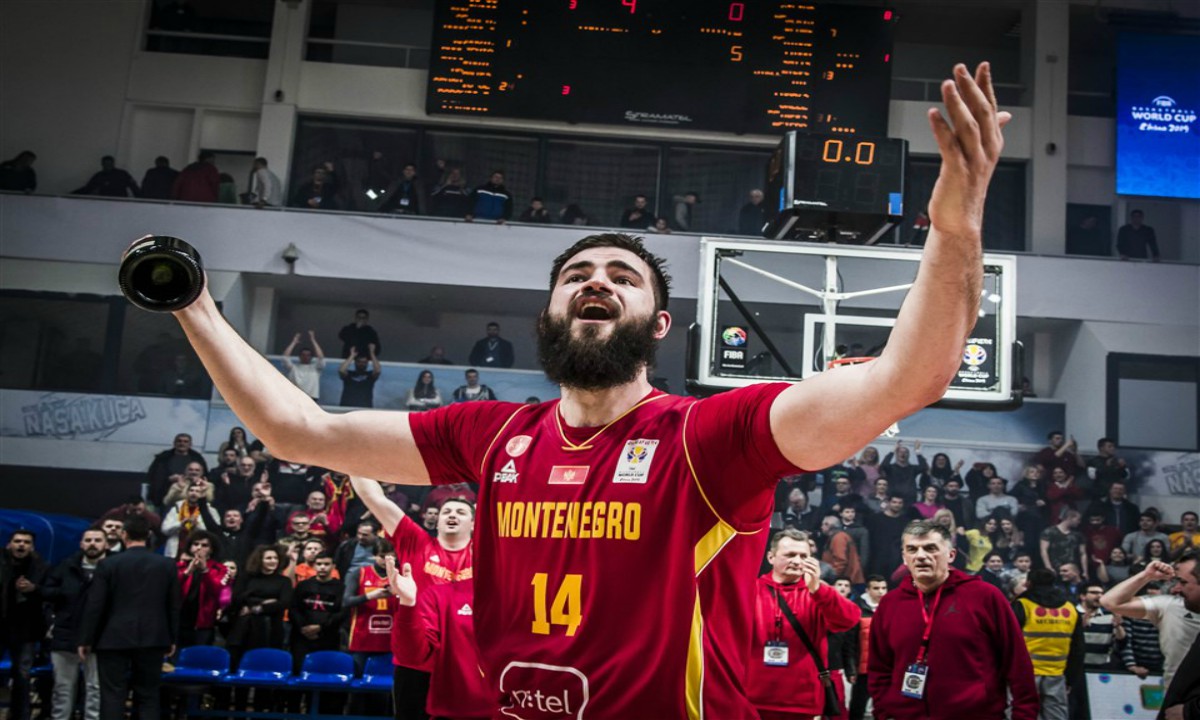 PODGORICA (Montenegro) - Bojan Dubljevic believes Montenegro's qualifying journey to the FIBA Basketball World Cup in China has been an experience that has undoubtedly helped this small nation grow in the international game.
"We gave everything for a spot for China 2019 and we felt so relieved and happy when we finally got it. Oh man, this was long and hard, but it was so worth it," said Dubljevic.
The Montenegrins had to overcome a difficult start in the European Qualifiers to advance to the Second Round and once there, won some thrillers, including two games against Ukraine. They also snatched what proved to be a vital road victory over Latvia in Riga.
However, they didn't punch their ticket to this summer's tournament until the very last game, qualifying for the World Cup on goal differential despite an 80-74 defeat in a home clash with Latvia.
The qualifying campaign did many things for Montenegro, including filling the players with confidence.
"We are a small country and we all know that it means a lot for all of us and for our countrymen to be in a competition like the FIBA Basketball World Cup. Our confidence got higher after qualifying, but we know also that we have to keep working hard and keep improving to have great performances in China. The qualifiers are now behind us, now we have to focus on the main tournament."
If the games were tough in the Qualifiers, they will be even more so in the first-ever 32-team World Cup. Montenegro will compete in Group F with Greece, Brazil and New Zealand.
"This group is very competitive," Dubljevic said. "I think that it's one of the most competitive groups of the whole First Round. We have only teams, outside of ours, that have a lot of experience at the international level and it's very important to have when you play in a tournament like the FIBA World Cup.
"Brazil is a very solid team and I play against some of the guys that are going to be part of the team during the season in the Spanish League. They have many veterans that are going to be very impactful for them. Greece is one of the best teams in Europe, and with all the talent they have, including Giannis Antetokounmpo, they can go far in the tournament. New Zealand is a team that plays with a lot of intensity and we will have to defend very well to play at the same level of physicality as them."
Greece, after upsetting the United States in the Semi-Finals, finished runners-up at the World Cup in Japan 13 years ago. In 2002, New Zealand went on a stunning run to the Semi-Finals and came in fourth. Brazil haven't been on the podium at the World Cup since 1978 but they are among the best teams in the Americas and are loaded with star power.
"It's an amazing opportunity for us, for the country, for the entire people of Montenegro," Dubljevic said. "We're a small country but we're proud and we want to represent our nation the best way, to show that Montenegro has talent and wants to show it at the highest level.
"We know that we aren't among the favorites, but we're going to compete and fight in every game to make our people proud. It's such a huge opportunity to speak about our country on the world stage, to show our flag, to make people learn about our country and our basketball.
"That is a huge window of visibility for Montenegro, a big window open for the world to see. We're going to work hard in training camp to be in the best shape for the start of the competition. We're going to want to make our fellow compatriots proud by wearing the red jersey on our shoulders."
Dubljevic knows there are no guarantees when it comes to playing in major tournaments and there is no question that he'll be with the team.
"It's something very important for me, and I'm really excited to do so as we will be able to compete against the best teams and players in the world, which is going to help our basketball grow and make us gain more experience for the future."
As for the opportunity to go to China, he said there is much to look forward to.
"So many things, like the crowds, the atmosphere is going to be so great, the fans, the whole competitiveness of the tournament and much more," he said. "Playing at a FIBA World Cup is probably one of the highest things to do when you play basketball and I'm really looking forward to a lot of things this summer. My teammates, the staff, all of us together, we want to do something great in China."
FIBA
Related Articles