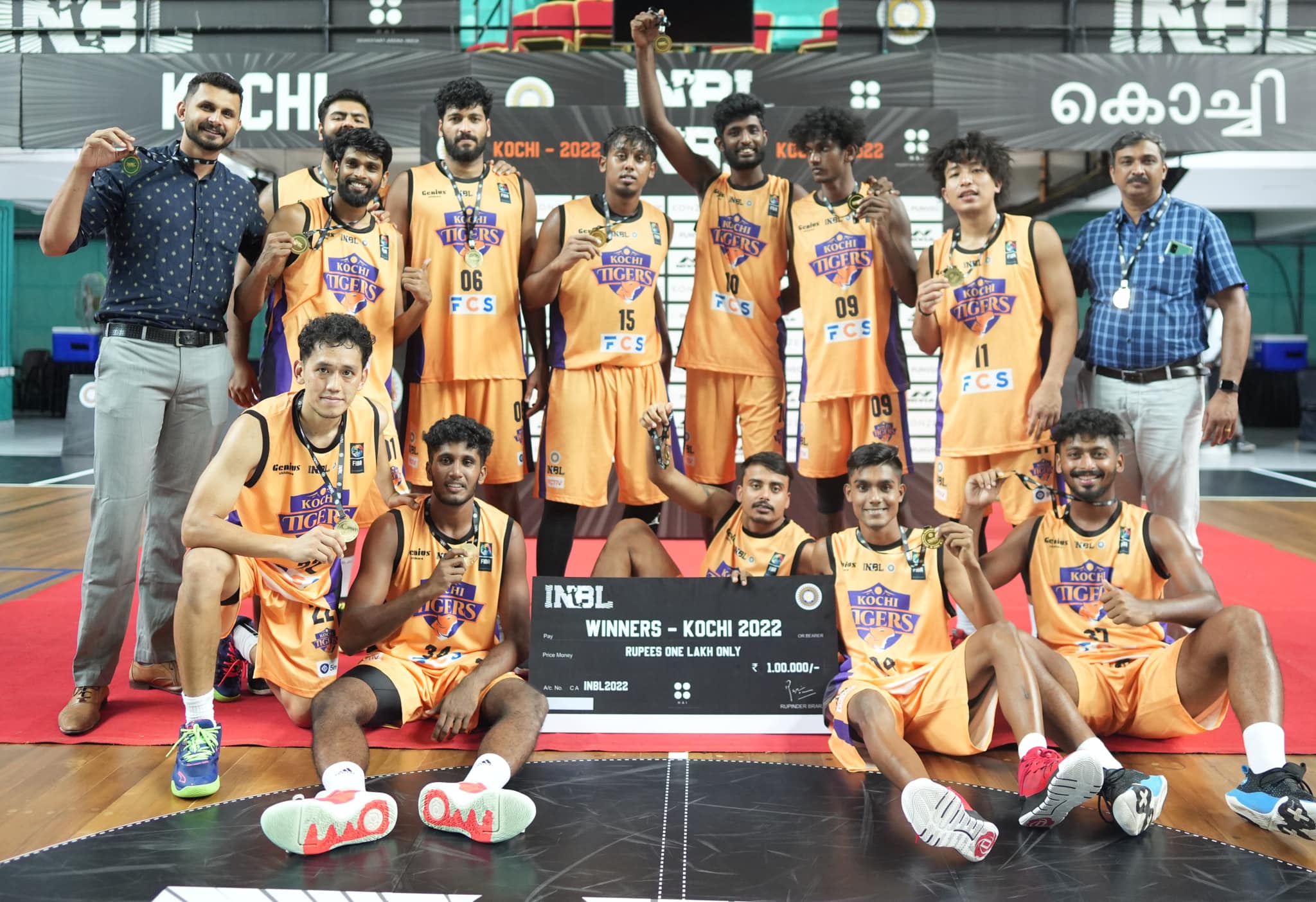 KOCHI (Kerala), Friday, 21st October 2022: Round 1 of INBL 5x5 Season 1 concluded yesterday, with hosts Kochi Tigers being crowned champions. Meanwhile, third placed Chennai Heat's captain P Baladhaneshwar was named the Most Valuable Player (MVP), after averaging 18.4 points, 4.6 rebounds, 4.2 assists and 3 steals through five games.
As Round 1's winning team, Kochi Tigers were awarded a prize money of Rs 1 lakh, while Round 1's MVP Baladhaneshwar received Rs 25000/-.
Round 1 Final Standings
1. Kochi Tigers (4-1) – 9 pts
2. Chandigarh Warriors (3-2) – 8 pts
3. Chennai Heat (3-2) – 8 pts
4. Bengaluru Kings (3-2) – 8 pts
5. Delhi Dribblers (1-4) – 6 pts
6. Mumbai Titans (1-4) – 6 pts
Kochi Tigers' Only Loss
On the concluding day, the previously undefeated Kochi Tigers finally succumbed to their first defeat, at the hands of the Bengaluru Kings. The 72-88 result was undoubtedly influenced by the fact that key players of Kochi were fatigued having played in a Kerala State level tournament earlier in the evening. Luckily for Tigers, they had already been assured of the top spot even before tip-off, by virtue of their closest rivals Chennai Heat losing to Chandigarh Warriors 69-83.
On their part, Chandigarh Warriors continue to stage a creditable turnaround. After losing the first game, they have won three out of the remaining four, including the last two.
Delhi Dribblers will be relieved to end Round 1 on a maiden winning note, beating Mumbai Titans 99-74. Delhi's shooting guard Mahipal Singh flirted with a triple double before finishing with a statline of 20 points, 9 rebounds and 8 assists.
INBL action now shifts to Rajasthan for Round 2, which will be held at Jaipur's Sawai Mansingh Indoor Stadium between 26th to 30th October.
INBL 5x5 Season 1 Round 1 {Kochi} Results (20-10-22)
Related Articles