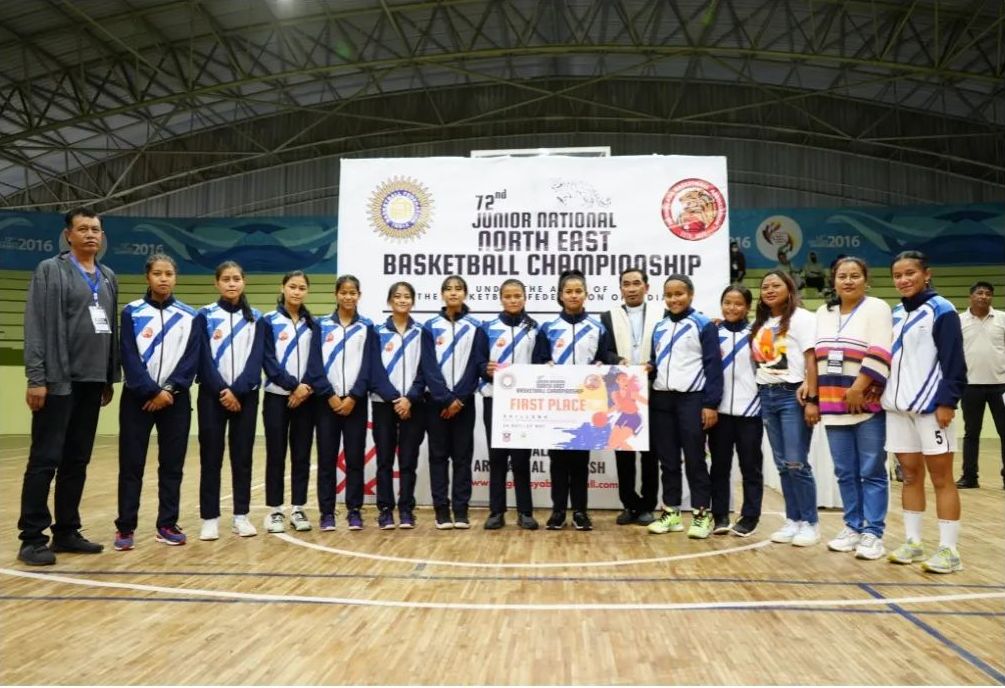 SHILLONG (Meghalaya), Saturday, 5th November 2022: In the first ever North East Junior (U18) Zonal Championship held last month, Mizoram Boys and Meghalaya girls emerged as champions.
The tournament was hosted by the Meghalaya Basketball Association at the North Eastern Indira Gandhi Regional Institute of Health and Medical Sciences (NEIGRIHMS) Indoor Basketball Court, Shillong, between 14th to 17th October 2022.
While favourites Mizoram boys expectedly won each of its five games, Meghalaya girls did well to beat Assam and Nagaland – the only other girls' teams in the competition.
The entire tournament was played in a round robin league format, with each team playing once against every other side.
Top three teams qualify to the 72nd Junior National Basketball Championship
Overall, the top three teams in both sections will now compete in the 72nd Junior National Basketball Championship that is scheduled to be held in Bengaluru from 21st to 28th December.
Top Three Qualified Teams

Boys

Girls

1) Mizoram

1) Meghalaya

2) Manipur

2) Assam

3) Assam

3) Nagaland
1st NE Zone Jr (U18) Championship Results
14-10-22
BOYS
1) Meghalaya bt Arunachal Pradesh 93-42 [20-11, 28-14, 26-11, 19-6]
2) Manipur bt Nagaland 87-50 [21-15, 27-12, 16-9, 23-14]
3) Mizoram bt Assam 94-16 [34-4, 21-6, 20-4, 19-2]
4) Manipur bt Meghalaya 88-65 [25-17, 22-10, 15-17, 26-21]
GIRLS
1) Meghalaya bt Nagaland 61-18 [26-5, 12-5, 14-6, 9-2]
15-10-22
BOYS
1) Mizoram bt Manipur 95-44 [21-3, 27-6, 25-13, 22-22]
2) Assam bt Arunachal Pradesh 52-40 [17-4, 13-7, 5-8, 17-21]
3) Meghalaya bt Nagaland 78-43 [29-8, 12-11, 16-15, 21-9]
4) Mizoram bt Arunachal Pradesh 120-20 [36-2, 34-5, 23-3, 27-10]
GIRLS
1) Assam bt Nagaland 57-48 [19-8, 8-15, 18-17, 12-8]
16-10-22
BOYS
1) Nagaland bt Arunachal Pradesh 45-33 [16-8, 15-3, 4-12, 10-10]
2) Manipur bt Assam 81-72 [16-16, 27-14, 19-19, 19-23]
3) Mizoram bt Meghalaya 104-37 [23-7, 29-15, 34-9, 18-6]
17-10-22
BOYS
1) Manipur bt Arunachal Pradesh 95-40 [34-19, 35-8, 11-12, 15-1]
2) Mizoram bt Nagaland 78-31 [13-11, 30-7, 18-7, 17-6]
3) Assam bt Meghalaya 76-61 [22-8, 13-16, 17-16, 24-21]
GIRLS
1) Meghalaya bt Assam 59-56 [18-10, 18-19, 10-13, 13-14]
Related Articles