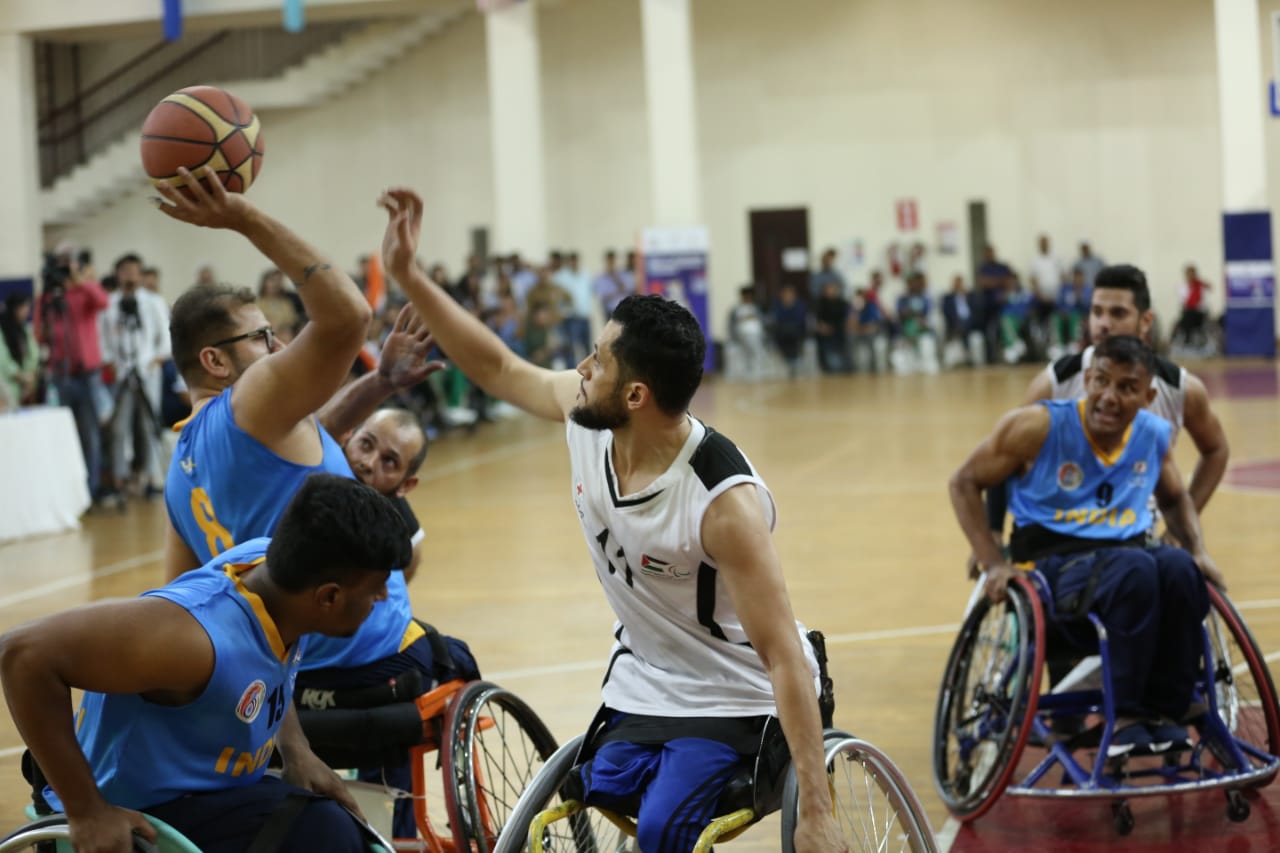 GREATER NOIDA (Uttar Pradesh), Saturday, 12th November 2022: In India's first ever international wheelchair basketball tournament that concluded yesterday, the host teams have finished runners up in both the men and women sections.
The tournament was organized by the Wheelchair Basketball Federation of India in association with International Committee of the Red Cross and Paralympic Committee of India, at the Jaypee Sports Complex between 7th to 11th November 2022.
Cambodia Women and Palestine Men Reign Supreme
With seven men's teams and three women's teams, the former was played in pool-cum-knockout format, while the latter was a double-leg round robin league culminating in the finals.
While the men's section saw many close games, in the women's category, Cambodia was dominant throughout, including a 55-14 finals drubbing of India.
Final Standings

Men

Women

1) Palestine

1) Cambodia

2) India

2) India

3) Libya

3) Nepal

4) Syria

5) Lebanon

6) Bangladesh

7) Nepal
India's 1stInternational Wheelchair Basketball Tournament {Results}
11-11-22
FINALS
1) Men: Palestine bt India 49-44 [13-12, 14-10, 11-12, 11-10]
2) Women: Cambodia bt India 55-14 [17-6, 22-4, 10-4, 6-0]
MEN CLASSIFICATION
1) 3rd-4th place: Libya bt Syria 51-39 [8-8, 19-13, 10-8, 14-10]
2) 5th-6th place: Lebanon bt Bangladesh 38-36 [6-4, 10-12, 13-12, 9-8]
10-11-22
MEN SEMIFINALS
1) Palestine bt Libya 56-40 [10-12, 20-4, 10-8, 16-16]
2) India bt Syria 48-44 [18-11, 10-7, 10-12, 10-14]
WOMEN ROUND ROBIN LEAGUE
1) Cambodia bt India 44-36 [13-7, 10-6, 9-8, 12-7]
MEN CLASSIFICATION
1) 6th-7th place: Bangladesh bt Nepal 69-44 [23-9, 9-6, 17-16, 20-13]
09-11-22
MEN POOL STAGE
1) Pool A: Libya bt Lebanon 37-52 [11-16, 16-10, 15-2, 10-9]
2) Pool A: India bt Nepal 57-53 [8-14, 15-13, 18-12, 16-14]
3) Pool B: Syria bt Palestine 54-51 [6-6, 14-14, 19-11, 8-16, 7-4 (OT)]
WOMEN ROUND ROBIN LEAGUE
1) Cambodia bt Nepal 50-25 [16-10, 16-5, 10-6, 8-4]
2) India bt Nepal 31-24 [3-8, 8-3, 12-4, 8-9]
08-11-22
MEN POOL STAGE
1) Pool A: Lebanon bt Nepal 49-47 [19-17, 11-8, 9-10, 10-12]
2) Pool B: Syria bt Bangladesh 54-42 [18-12, 11-14, 13-10, 12-6]
3) Pool A: Libya bt India 34-32 [5-9, 11-12, 11-7, 7-4]
WOMEN ROUND ROBIN LEAGUE
1) Cambodia bt India 58-14 [19-4, 10-6, 12-4, 17-0]
2) Cambodia bt Nepal 56-22 [24-4, 6-6, 12-4, 14-8]
07-11-22
MEN POOL STAGE
1) Pool B: Palestine bt Bangladesh 65-41 [11-14, 19-12, 16-8, 19-7]
2) Pool A: India bt Lebanon 50-36 [16-11, 13-4, 10-4, 11-17]
*Pool A: Nepal vs Libya result not available
WOMEN ROUND ROBIN LEAGUE
1) India bt Nepal 38-36
Related Articles